SAVE THE DATE 23-24 NOVEMBER
Nordregio Forum 2021 will focus on sustainable regional development Post-Covid: Multilocality and remote working have picked upwind during the pandemic and green steps have been taken towards carbon neutrality. What kind of impact do we see at local and regional levels? How can we ride the wave and lead towards just green transition and rural renaissance? Which policies and actions do we need for the new era?
Join us and learn from the front-runners in Lahti, EU's Green Capital 2021. We will hear from the Mayor of Lahti, Pekka Timonen, about citizen engagement and the process of turning Lahti into a green spearhead. Johan Kuylenstierna, Chair of the Swedish Climate Policy Council will share insights on how to create effective climate policies and pave the way towards zero emissions. Maria Svensson Wiklander from the Remote Lab will paint a picture for us of what the future of work looks like Post-Covid. More names will be added to the programme throughout the summer, the full programme and registration will open in September, so stay tuned!

We hope to see you in Lahti in November!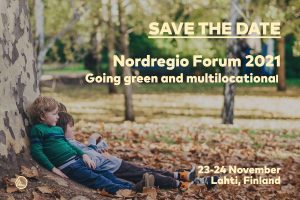 Nordregio Forum is the annual meeting place for professionals and policymakers working with regional development in the Nordic countries. It is a forum for exchange of ideas and trends, for sharing new knowledge, examples, and experience, and for pushing national and regional policy agendas by learning from others and questioning the norm. Together we create Nordic added value and contribute to Our Vision 2030. Visit our page for Nordregio Forum 2020 and watch the recordings from the webinar series 2020.
Organisers and sponsors:
Nordregio and the three Nordic Thematic Groups
Ministry of Economic Affairs and Employment in Finland
Nordic Culture Point, Helsinki
Nordic Council of Ministers
The Nordic Committee of Senior Officials for Regional Policy
For more information contact Pipsa Salolammi, Project manager