Increasing urbanization and the subsequent upward pressure on housing prices has made providing affordable student housing in central locations a challenge in many European capital cities. Copenhagen is one of the ten most expensive European cities to buy or rent property putting considerable pressure on those who study there. When he saw his son struggling to find housing in Copenhagen in 2013, the Danish entrepreneur Kim Loudrup came up with a solution to develop affordable student housing in places with limited and expensive building space: Building student housing from recycled shipping containers, floating on water. He collaborated with the Bjarke Ingels Group, a well-known Danish architecture firm, who developed the Urban Rigger design.
Solution
The Urban Rigger design involves stacking nine shipping containers on top of a floating concrete pontoon to create a total of 12 apartments. The concrete pontoon forms the foundation of the structure and has a basement which houses the storage spaces, laundry room and technical equipment (e.g. ventilation system, batteries to store energy from the solar panels, water and heat pumps). The Rigger is outfitted with modern technology like solar panels, a hydro source heating system and a low-energy pumps for water, heat, ventilation and waste-water.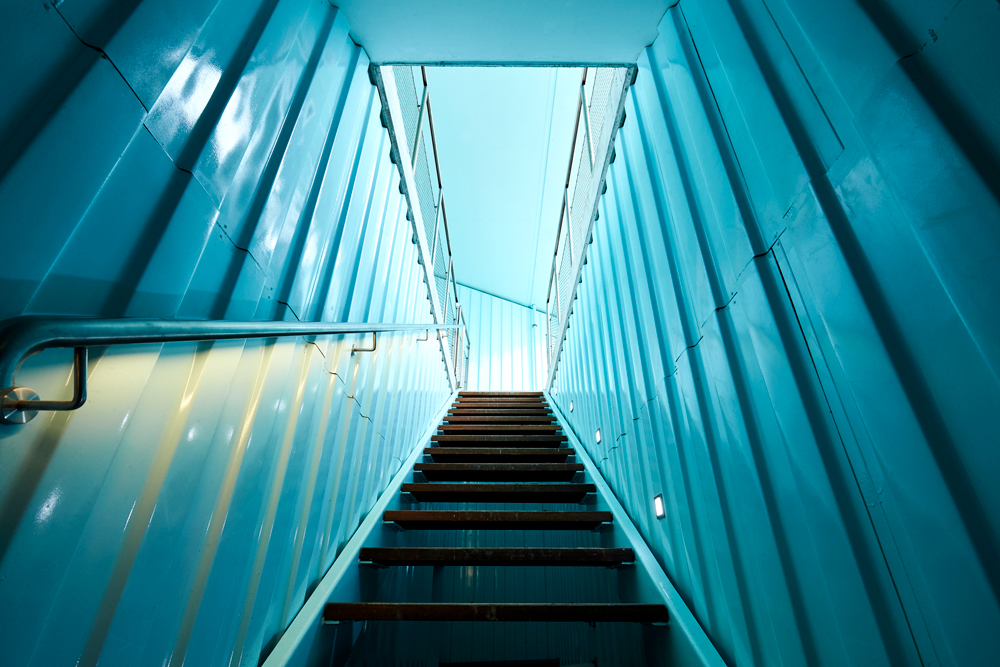 The nine shipping containers make up 12 apartments of around 25 m2 each. In addition, there is around 445 m2 of common area on each Rigger. Because shipping containers are not intended to be inhabited, considerable effort is made to make the Rigger liveable – the common area is outfitted with a courtyard, fitness room, rooftop terrace, barbecue area, kayak landing and bathing platform. Integrating water in the design of the Rigger provides several benefits. The housing floats and can be moved. Additionally, water is used in the heat exchange for heating and cooling the Riggers.
Outcome
Shipping containers are not intended to be inhabited, but through well thought out design and reconstruction, the Urban Rigger team have succeeded in turning them into a good living environment.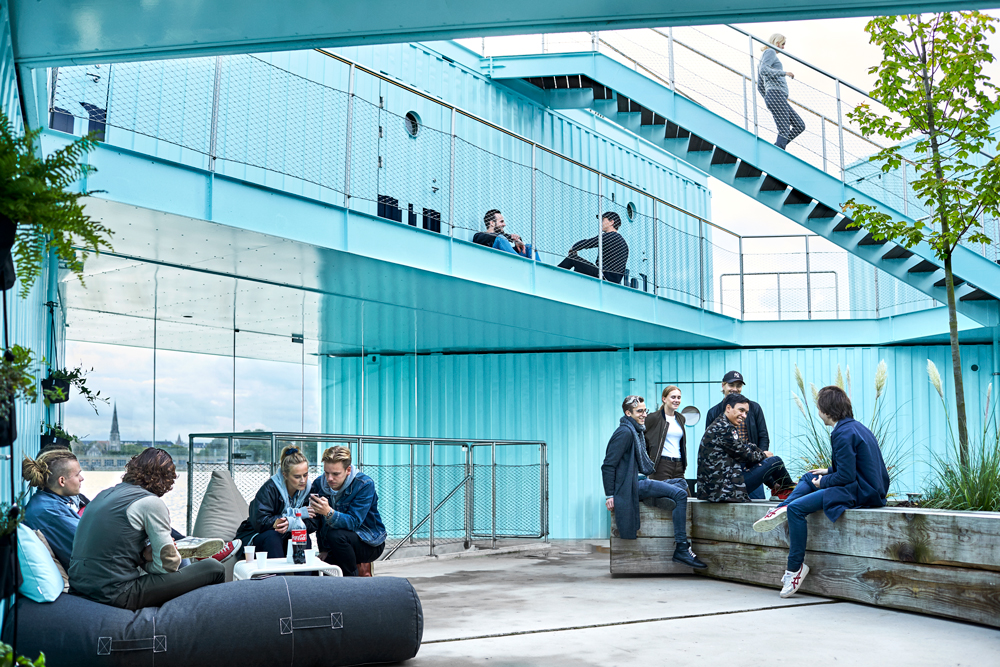 In the spring of 2019, five more Urban Riggers will be produced for the Copenhagen market, resulting in a total of 72 floating apartments in the Danish capital. In the Swedish city of Göteborg, plans for a floating village of 24 riggers are being developed, which would give the city 288 floating student accommodations.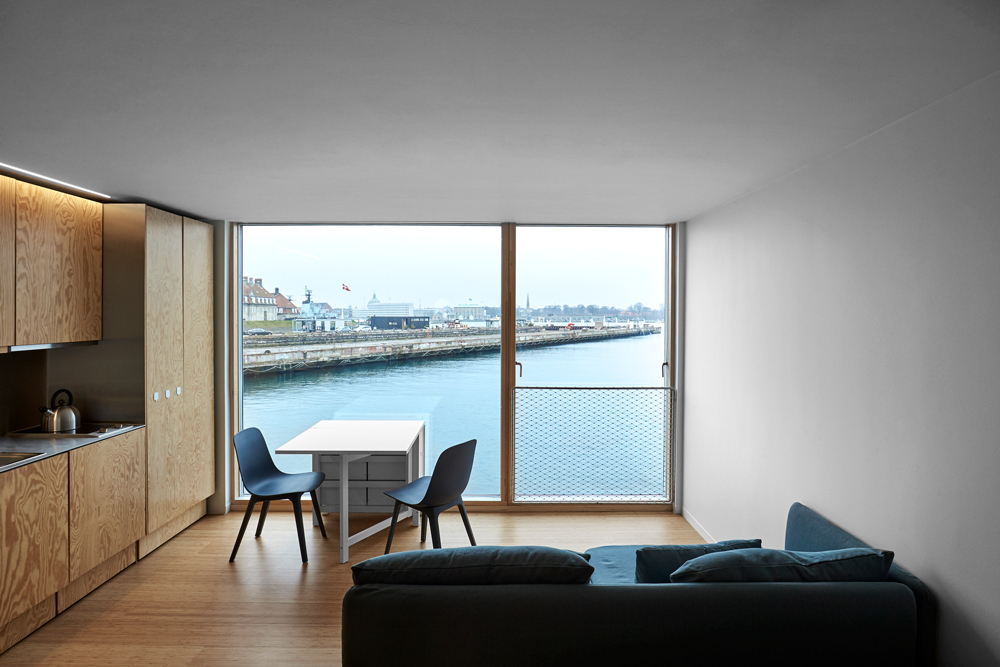 The Urban Rigger team works in close cooperation with pump manufacturer Grundfoss and heating and cooling company Danfoss. The companies equip the Urban Rigger with their latest products and innovations regarding heating systems and pump systems for the drinking water and waste water. In this way, the companies can test their equipment and is the Urban Rigger outfitted with state-of-the-art technology.
Potentials
The Urban Rigger is a smart and versatile Nordic design which has gained much international attention. Delegations from Russia, the United States, China and South Korea have visited the Urban Rigger, captivated by its flexibility and potential.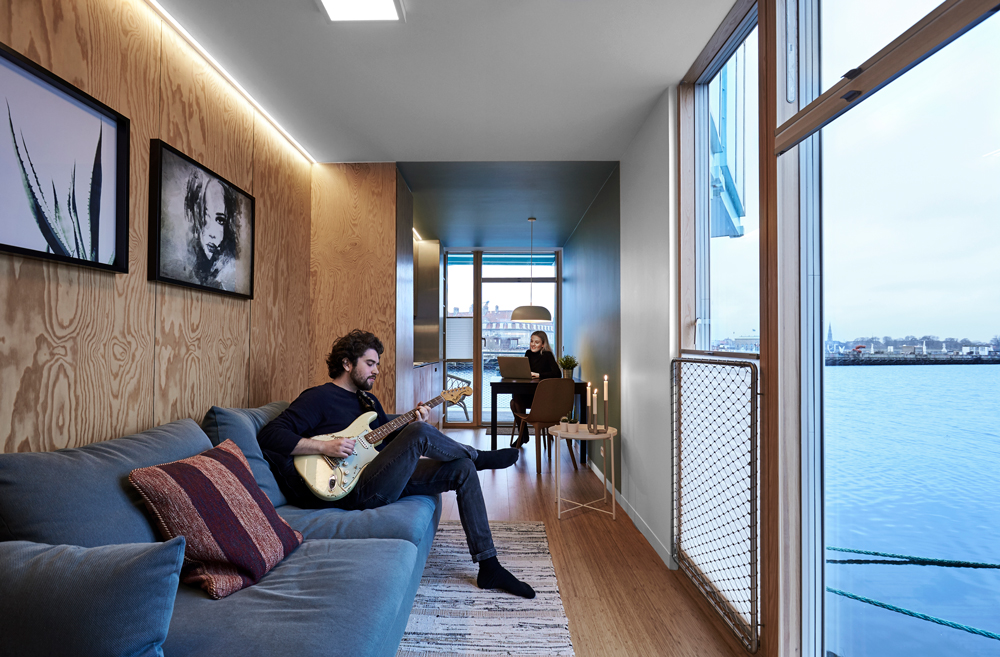 The base materials — shipping containers and a concrete pontoon base — can be obtained or produced anywhere, which is why Urban Rigger receives many requests for licensed production.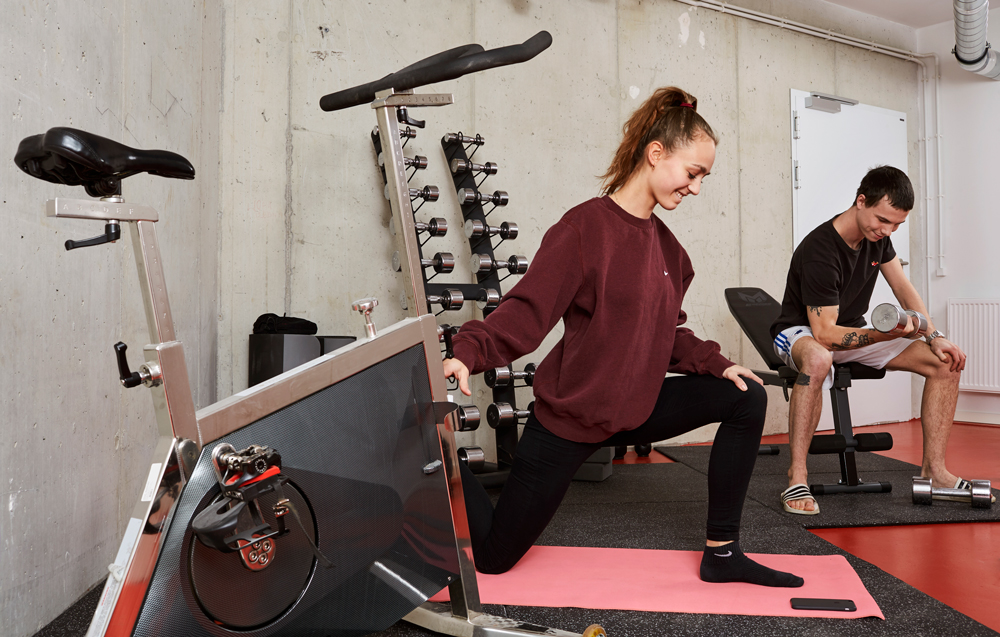 Urban Riggers can also serve other functions, for example, elder care homes, hotels, restaurants and markets. Finally, housing students in areas with poor socio-economic status is a proven way of revitalizing — the Urban Riggers can be placed in problematic areas and serve as mobile catalysts for reinvigorating neighbourhoods.