A new maritime spatial planning project – PanBaltic Scope – took off on 27-28 February on its two-year-long journey across the Baltic Sea to discover new tools and methods of how to improve and facilitate certain aspects of maritime spatial planning including ecosystem-based approach, land-sea interaction and green infrastructure.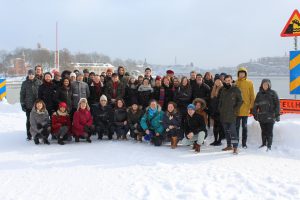 PanBaltic SCOPE project partners
The efforts of Baltic SCOPE continue in the Pan Baltic Scope project, an even broader partnership aiming at achieving coherent national maritime spatial planning in the region while simultaneously building lasting macro-region mechanisms for cross-border MSP cooperation.
To kick off the project and plan our next manoeuvres, MSP planning authorities from Sweden, Åland, Finland, Estonia, Latvia, Denmark, Poland and Germany in addition to VASAB, HELCOM, SYKE and Nordregio met each other last week in the Nordregio headquarter in Stockholm. New partners from Finland and Åland have joined us to widen the scope. New areas of Finnish-Åland-Swedish waters will be covered.
Nordregio leads a WP on Land-Sea Interaction including two case studies as well as the Lessons Learned activity to provide feedback on progress in all activities. Our GIS team will get engaged and contribute with exquisite knowledge on Territorial Monitoring and to an activity on economic and social analysis. Active contribution will also come from communications. Overall assistance and support of project and planning activities and synchronisation of all work will be provided through the so-called planning forum.
Through activity and work package lead and active engagement in many project activities, Nordregio will contribute to 6 overarching priorities:
– Support the work of competent authorities and/or inter-ministerial bodies in charge of developing and implementing maritime spatial plans
– Use a scenario-based method which should allow identifying and evaluating future potential uses, needs and maritime spatial development options. Such work should feed the establishment of maritime spatial plans
– Support the coherent implementation of an ecosystem-based approach and the integration of land-sea interactions;
– Ensure an effective engagement with and participation of stakeholders in the design and implementation of MSP processes
– Develop, review and/or implement a monitoring and evaluation framework designed to ensure effective and sustainable use of maritime spaces
– Make use of the best available data and information by encouraging sharing of information
The next steps is to co-develop work plans to further systematize our activities, reflect upon potential challenges and needs to achieve our goals and results.
Related Research Projects
Related Events