Senior Research Fellow Moa Tunström overviews social sustainability aspects for architects.
Social sustainability as a policy concept, and the need to see and emphasize social aspects of sustainable development, has climbed the agenda in recent years. But, the concept is fuzzy, and its meaning depends a lot on the context.
Nordregio's Senior Research Fellow Moa Tunström was commissioned from Arkus, a Swedish architectural research organization, to write an introduction to social sustainability specifically for architects.
What does social sustainability mean for architects and urban planners? How is the concept of "the social" and the built environment itself connected, and how can architects and planners include perspectives on "the social" when planning, designing and building cities?
The publication "Social hållbarhet och stadsutveckling. Det politiska, det praktiska och den byggda miljön" ("Social sustainability and urban development. The political, the practical and the built environment") was released on December 15th at an event organized by Arkus at the Finland Institute in Stockholm.
A very practical aspect of this publication is that it is supposed to function as an introduction to further readings and discussions, and therefore it mainly consists of very short thematic introductions to a number of topics and these introductions are followed by recommended further readings. Consider it as a starting point to further reflections on and investigations of how architects, planners and others can contribute to a just city, how the built environment can increase or reduce inequalities, or the character of our common spaces today.
The publication (in Swedish) can be ordered from info@arkus.se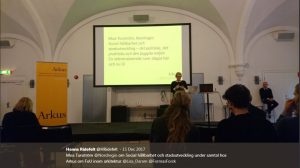 Source: Twitter