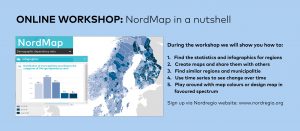 One more NordMap workshop for this fall!
Due to high demand on the workshop 2, we will host one more workshop introducing and summarizing the web mapping tool. You will get a change to be introduced to NordMap in a nutshell and get familiar with the tool in 30min.
If you missed any of our previous two workshops or just want to refresh your learning, please join our third workshop here: https://www.lyyti.fi/reg/Online_Workshop_NordMap_2_1296
During the workshop we will show you how to:
Find the statistics and infographics for regions
Create maps and share them with others
Find similar regions and municipalities
Use time series to see change over time
Play around with map colours or design map in favoured spectrum
You will also have a chance to get answers to your questions.
Related Staff