Did you miss an opportunity to join an in-person Nordregio Forum last November? During the past forum, we delved into the green transition topic and what it means for jobs and cities in the Nordic region. But what happened in Hamar does not need to stay only in Hamar. We would like to share inspirational keynotes, discussions and Nordic examples with you!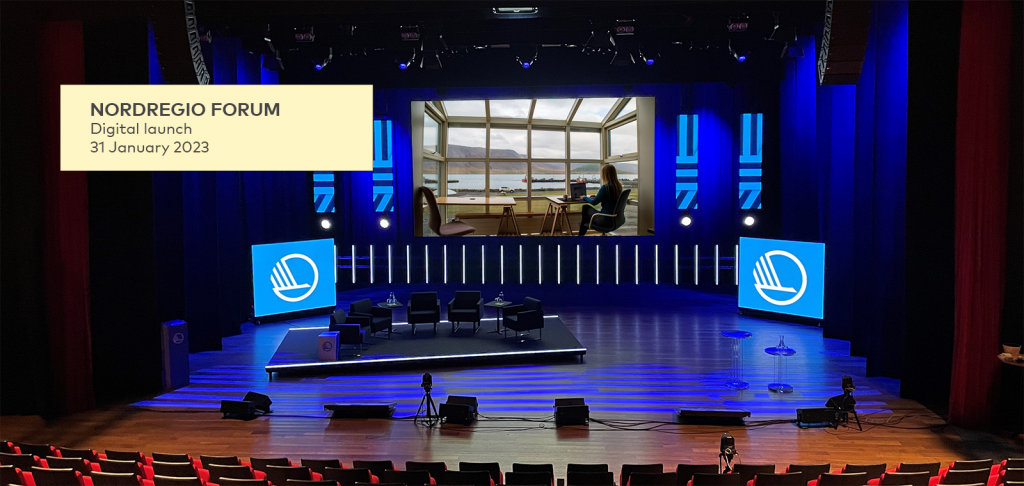 Three steps towards the digital launch:
Sign up for a digital launch of Nordregio Forum;
On 31 January, check your e-mail inbox just before lunch (Stockholm time);
Reserve a few hours to explore Nordic ideas on addressing the green transition challenges in the labour market and the cities.
---
Mismatch in the labour market
Nordic labour markets are challenged by a number of trends, of which the ageing population, digitalization, mismatch between competencies available vs needed, and the green transition stick out as perhaps the most important. How can regions adapt to demographic challenges, and rapid social and technological changes in the labour market? How can we achieve regional labour markets that are both sustainable and inclusive? What does the green transition mean to different regional labour markets?
During the inspirational keynote, meet Even Aleksander Hagen (Innlandet County Mayor) – the youngest mayor in Norway with a strong vision on how to develop the inclusive and sustainable region of Innlandet.
The panel discussion will set the scene on what kind of labour mismatches exist. Why? And what are the potential solutions? A variety of angles are discussed by researchers and practitioners from all around the Nordics, among others Marit Lofnes Mellingen (The Centre of Competence on Rural Development, Norway), Kresten Olesen (RegLab, Denmark), Jukka Teräs (Norrum Oy, Finland) and Jimmy Sand (The Swedish Secretariat for Gender Research/NIKK – Nordic Information on Gender, University of Gothenburg).
The research insights session overviews the status quo and potential of Nordic competence mobility by Anna Lundgren and Ágúst Bogason (Nordregio).
Nordic Solutions invites you on an inspiring journey with companies, organisations, projects and initiatives that have successfully tackled the labour market imbalance problem. For example, the Siu-Tsiu is the first registered social business in Greenland that actively engages youth in the labour market. The Greater Copenhagen region is actively working on facilitating cross-border competence mobility. Meanwhile, the platform MindDig supports businesses and municipalities in Northern Sweden by searching for talents to work in "green industries".
---
Urban communities in green transition
Nordic cities are facing a complexity of different types of interrelated challenges. A key question is how cities can be planned and developed to become climate- and environmentally friendly, along with being socially sustainable. Addressing the multitude of interconnected urban challenges also requires partnerships and collaboration between different levels of government, private actors and citizens.
The research insights session on urban communities in green transition addresses the most prominent city planning challenges. How are human well-being and access to green spaces integrated into city planning? Findings from the NORDGREEN project are presented by Luciane Aguiar Borges (Nordregio), Johanna Palomäki (Espoo city case) and Else Dybkjær (Stavanger city case). How to plan socially mixed and inclusive neighbourhoods? Insights from Mats Stjernberg (Nordregio). How to measure the transition – recommendations by Timothy Heleniak (Nordregio).
The Nordic Tour brings us to inspiring cities that have found ways to plan for green, healthy and sustainable urban communities. How do the cities, like Skellefteå in Sweden, or Arendal in Norway face the green transition? What could we learn from a variety of Danish cities that promote circularity in urban planning? How do the Nordic urban communities envision sustainable city planning?
Related Staff