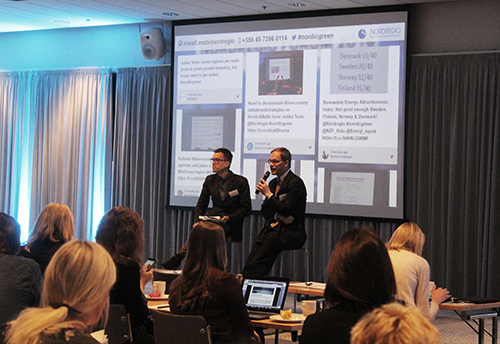 Nordregio Forum has successfully come to an end – You can watch presentations online!
Nordregio Forum 2016 gathered together over 150 innovators, researchers, policy-makers and practitioners from different organisation from all over the Nordic countries and elsewhere in Europe. During those two days Nordregio Forum 2016 offered a wide range of perspectives on the green transition state of the play and also some critical point of views. It served also as the final conference for the Nordic Prime Ministers' green growth initiative and results from the many projects under the initiative.
Heating, cooling and transport should get more attention in the debate on future energy systems, says Minister of Economic Affairs Olli Rehn (Finland). Rehn: 'We are at the start of a new economic era'. Forests are one of the most important natural resource for Finland and that makes bioeconomy very natural and important for the Finnish economy and according to him circular economy is the key to sustainable economic growth. Rehn started an inspirational day at the Nordregio Forum and discussions about Green transition and how to fast forward it together. Secretary General Dagfinn Høybråten (Nordic Council of Ministers) shared some results about the Nordic Cooperation for green transition. "There is a huge need to be attentive to the changes that need to happen in human behaviour. We can encourage this with policy measures. Don't underestimate a population that is ready for change – push that change".
All presentations are found here: http://videonet.fi/web/norden/nordregio/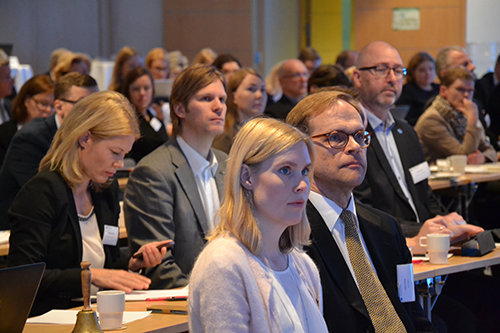 Over 150 participants at the Nordregio Forum 2016. Photo: Jussi Mäkinen.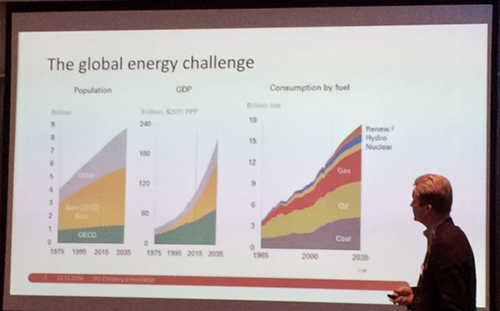 The global energy challenge presented by Mika Anttonen, ST1 energy company CEO.
---
NETWORK AND FOCUS DURING OUR FOUR PARALLEL SESSIONS
1. Circular economy and industrial symbiosis – How to get it going?
How to establish circular economy and promote circular business models in the regions? Where to find the resources and how to create and optimise circular models? If these are relevant questions for you, come and join the session where a panel of Nordic and European experts will guide you through the processes and present existing good practices. You will get concrete tips, meet people who have made industrial symbiosis and circular economy happen and identify possible future partners.
Speakers:
Ingrid H. G. Johnsen & Iryna Kristensen (Nordregio)
Mats Eklund (Linköping University)
Juha Ylimaunu (Outokumpu) & Kari Poikela (Kemi Digipolis Technology Park)
Pau Puigdollers & Renata Körfer (EU Sharebox project)
Nella Baerents (Arizona Chemicals)
Jukka Heikkilä (Southwest Finland Waste Management)
Ole Jørgen Hanssen (Østfold Research & Nordic food waste initiative)
Lina Kinning (Swedish Energy Authority & NordSyn project)
2. Cleantech and renewable energy, for smart, low CO2 transportation
What innovations are happening in the field? What are their lessons for policy and practice? How can we work together towards smart, low CO2 transportation across the Nordic countries? Join Mattias Goldmann, Managing Director of Fores, and a host of other experts to explore these questions from a range of perspectives including vehicles, fuels, infrastructure and behaviour change. Bring your own questions and ideas and be prepared for a lively discussion!
Speakers:
Mikka Jukkara (Scania, Finland)
Sigurður Ingi Friðleifsson (Vistorka, Iceland)
Anne Sörensson (Green Highway, Sweden/Norway)
Mattias Jägerskog (Skjutsgruppen, Sweden)
Svend Søyland (Nordic Energy Research)
Dr. Susanna Perko (Senior Specialist, Government External Economic Relations Unit Prime Minister's Office, Finland)
Anders Chr. Hansen (Research consultant Denmark)
3. Towards a Nordic Bioeconomy
Bioeconomy is high on the Nordic policy agenda, with high hopes on creating sustainable bioeconomy activities and jobs in Nordic countries and regions. At this session, we give the latest update on Nordic national and regional bioeconomy strategies and programmes. We also tackle the issue of implementation – how to transfer the strategies and programmes into concrete action. You are warmly welcome to our session to listen, to share your experience on bioeconomy policy, planning, and activities, and to ask questions!
Speakers:
Hordur Kristinsson (MATIS Iceland)
Eero Mikkola (LUKE Finland)
Isa-Maria Bergman (Motiva Finland)
Anne-Mette Sorensen (Langvad, Central Denmark Region´s Initiative)
Anders Olsson (Region Värmland/Paper Province)
Johannes Vallivaara & Ilari Havukainen (Arctic Bioeconomy Cluster Lapland)
Per Hedberg (Regeringskansliet Sweden)
Short panels together with Kaisu Annala (Chairman of Nordic Working Group for Green Growth – innovation and Entrepreneurship 2013-2016) and Mads Randboll-Wolff (Nordic bioeconomy expert).
4. Green cities and municipalities – green transition in practice
We all know that green transition begins at the local level, where we live and work, consume and commute. In this session we will learn how to make it happen and even try a proven method for cities and municipalities seeking to use circular economic principles throughout sectors and services. Meet green front runners: Danish Samsø, Ii from Finland, Eid in Norway and Swedish Växjö, together with Minor Change Group, circular economy experts from Denmark – and share your own green growth practices as well!
Meet green front runners:
Ii – Finland, Ari Alatossava
Eid – Norway, Alfred Björlo
Växjö – Sweden, Henrik Johansson
Samsø – Denmark, Nils Erik Andersen
Together with Jesper Minor and Niels Mikkelsen from Minor Change Group, circular economy experts from DK. The role of municipalities in promoting green transitions, circular economy as the new framework for value creation in the 21st century and introduction to principles, parameters, business models and growth strategies.
---
Organizers and Sponsors:
Nordregio, Finnish Ministry of Employment and the Economy, Finnish Ministry of Agriculture and Forestry and the Nordic Council of Ministers through its Committee of Senior Officials for Regional Policy, and the Nordic Prime Ministers' initiative on Green Growth.
Event Photo: Oddleiv Apneseth/norden.org