On 16-17 January, Nordregio joined a multi-disciplinary consortium of European and Chinese researchers, technology providers, entrepreneurs, financiers, local and regional authorities and citizen communities at the kick-off meeting of SiEUGreen, a new EU-Chinese cooperation project.
The SiEUGreen project seeks to enhance the EU-China cooperation in promoting urban agriculture for food security, resource efficiency and smart, resilient cities. The project includes showcases in Fredrikstad (Norway), Arhus (Denmark), Hatay (Turkey), Beijing (China) and Changsha (China).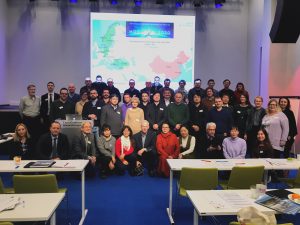 Nordregio will lead the work package under the overall project portfolio that focuses on: "Support to institutional and social structures for creating resilient cities with urban agriculture", as well as contributing to other work packages.
During the kick-off meeting, the partners discussed the work on the first task – mapping the available data on the showcase location with respect to land-use, food security, resource efficiency and social inclusion. Nordregio will collect data for the task in collaboration with our partners at the Chinese Academy of Social Sciences.
SiEUGreen is a Horizon 2020 project and will run until the end of 2021.
Related Research Projects