As I wandered through a recent youth democracy festival, my mind buzzed with one question: Why is it more fun to make a tote bag and drink cappuccino (admittedly made from oat milk) than to unleash your eco-warrior spirit and join the climate movement? Aren't Gen Z meant to be the most educated and socially conscious generation? What I learned is that ideological beliefs and practices do not always align.

Ungdommens Folkemøde NORD was organised in late April and provided a platform for various organisations to showcase their initiatives and spark conversations about themes related to youth and democracy. Attendees could exchange ideas, participate in interactive activities, and share their visions and knowledge. Despite the enthusiastic participation from many, I couldn't help but wonder about the sizeable number of young individuals who seemed disconnected from the sustainability discourse.

At the same time, climate anxiety is getting worse among youth, and a WWF survey shows that two out of three young people in Sweden are concerned about climate change. Globally, the climate crisis is also worrying young people. Learning more about and getting involved in the climate fight should therefore be quite high on the priority list of today's young people. But this was not the case at the festival, since most attendees even detoured around the area decorated with globes and SDG stickers. Integrating sustainable choices in the lifestyle area worked much better. Youth flocked to test their inner legume persona and hang out in the bar of alternative cow-less milks.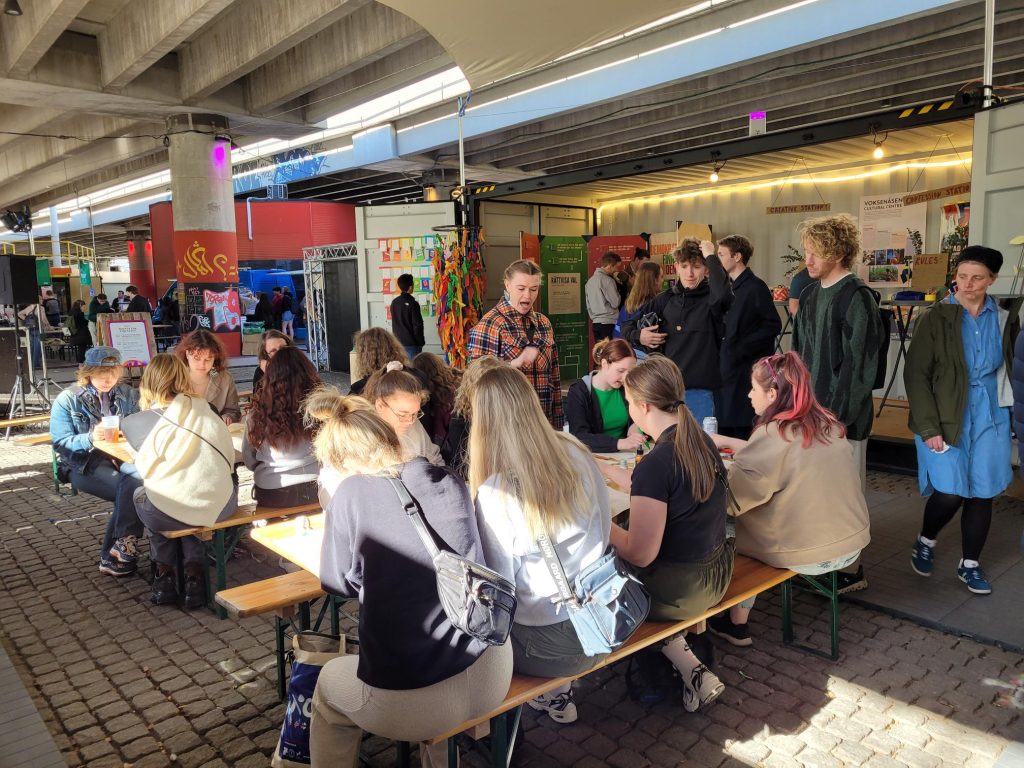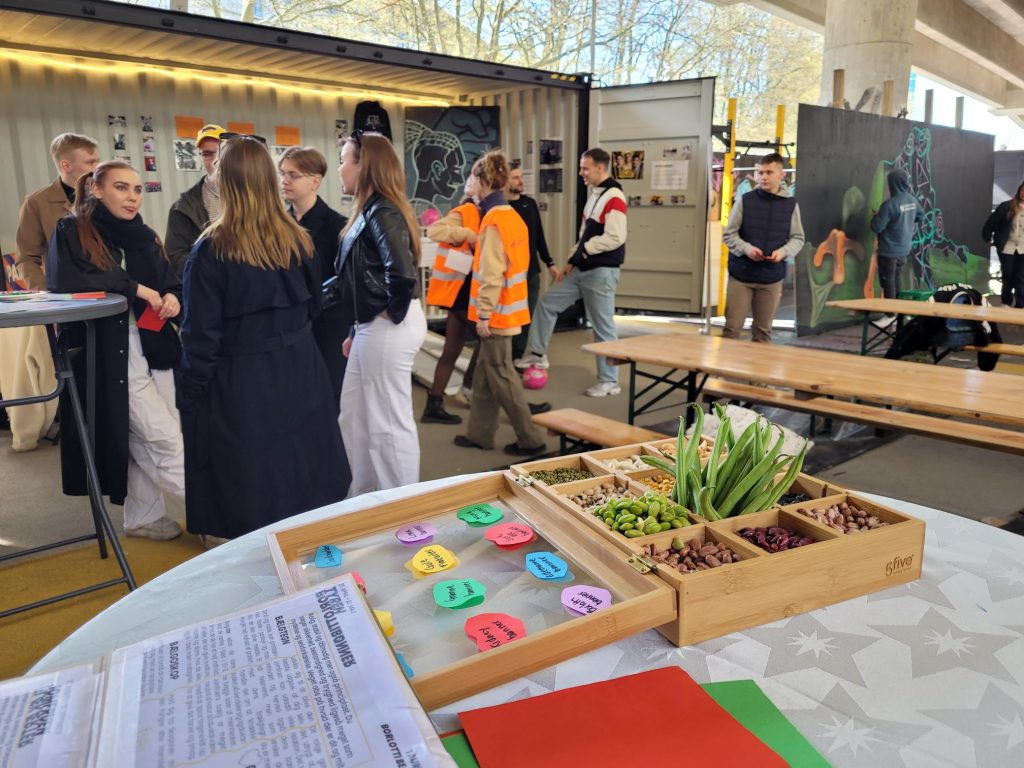 Maybe it's time for a small disclaimer: I do not think it is fair to make youth feel responsible for the mess created mainly by the boomer generation. But let's be honest here: It's the younger generations that will have to live with the consequences of climate change. And that is a thing that should make them at least concerned but preferably also engaged.

But why was I being so hard on them? Wasn't I actually feeling a nagging sense of guilt that I wanted to fight off by convincing myself that I am very conscious about climate change and that I am striving to live a sustainable life?
But do I do that?

In the last year, I flew 37 times. Were all of them necessary? Definitely not.
Why do I feel like I had the right to fly 37 times? (Some of them private, some of them work-related).

I felt ashamed.

(Disclaimer number 2: Not trying to shame you reading this, but it is okay to shame yourself).

Is it a lack of awareness, or perhaps a feeling of disempowerment that is devouring me (and most likely also many others)? With these questions in mind, I delved deeper into the event, seeking perspectives from Nordregio's collaboration partners at the youth festival.

Tænketanken Frej's approach: Dialogue and Collaboration
Tænketanken Frej is a think tank that drives sustainable practices within Denmark's food sector. Frej employs various strategies to engage the young generation in sustainability, such as simplifying progressive food research into easily understandable and actionable principles, shared via engaging videos on platforms like Instagram.

"It is not surprising that Danish youth spend significant time worrying about climate change and its consequences. However, it is essential to recognise that ideological beliefs and practices do not always align. Balancing busy lifestyles with sustainable choices can be challenging", says Jonatan Nothlev, volunteer coordinator and project manager at Frej.

Frej acknowledges the youth's natural inclination to question past practices and strive for change. As a youth-driven NGO, Frej believes in fostering collaboration and paving the way for sustainable changes across different interests and cultural communities.

FREJ also strives to bridge the gap between urban and rural communities. Recognising that meaningful dialogue may not naturally arise, Frej brings together farmers and activists in political events, fostering curiosity, appreciation, and mutual understanding.

Future Minds: Educating and involving youth to secure our common future
Future Minds is an educational program in sustainable development for high schools. Their motto is: Young people need to be involved in the work. Employ young people, set up a youth council or invite them to dialogue and collaboration, on equal terms. Then they need access to knowledge and support to both understand what the research says and how to handle that knowledge.
"These are overwhelming issues we are facing and getting the right tools and support is important to find the courage, power and agency to want to do something", says Education Manager Caroline Bodin.

ReGeneration 2030: Give youth a voice
ReGeneration 2030 is a youth movement for sustainability in the Nordic and Baltic Sea region, bringing activists aged 15-30 together to share knowledge and strategise. ReGeneration believes in empowering young people and their advice for engaging youth includes providing opportunities for active involvement, utilising social media as a communication tool, and offering skill-building and educational programs.

"By giving young people a voice and involving them in decision-making processes, their commitment and engagement can be enhanced. Networking, sharing visions, and collaborating with other organisations to amplify our collective impact is also important, says Vanessa Elena Phekani, Project Coordinator.
Homework for sustainability advocates out of sync
But what about me and my embarrassing 37 flights in a year? I recognise the need to actively challenge social norms and resist the habit of comparing myself to others. The challenge lies in not compromising my principles for social validation or instant gratification. Social media magnifies this struggle. Seeing vacation pictures in my feed triggers questions like "What am I missing out on? Don't I deserve a bit of fun too?"

FOMO strongly affects me when I choose to abstain. Maintaining my sustainable lifestyle amidst a constant barrage of challenges is far from straightforward.

I am not the one who should be offering advice on how to live sustainably, I have some homework to do myself. But if you feel a bit like me, passionate about fighting climate change but values and actions are a bit out of sync?

Here is my to-do list:
Unfollow. Influencers that are travelling, marketing fast fashion. Just unfollow.
Surround yourself with like-minded peers. Check out what our fantastic partners are doing and join the movement. For example, ReGeneration Week in August could be your kickstart to becoming a climate activist.
Put the numbers on the table. What does your carbon footprint consist of? Travelling? Consumption? Then you can make informed decisions.
Work on your habits. Maybe you can make small changes in your everyday life, like eating more plant-based and reducing waste. Check out what Frej can teach you here!
Dare to question the people around you. For sustainable living to become the norm, it should be a bit uncomfortable to go against green values. I think it is important to discuss sustainability with friends, family and colleagues. Don't be scared to ruin the atmosphere by bringing up uncomfortable issues. Peer pressure, you know. But be nice 😊
Peas out from the borderline Gen-Z:

Sofia Strömgård
Proud legumes lover
The organisations mentioned in the text participated in Ungdommens Folkemøde NORD through funding from the project Youth for Sustainable Living. Youth for Sustainable Living is part of a programme with the aim of making it easier to live climate-friendly in the Nordic Region. The Sustainable Living programme is coordinated by Nordregio and funded by the Nordic Council of Ministers. Read more and visit the programme website here.
Related Staff
Related Research Projects
Related external pages
Related Events
Authors