Nordregio and the Youth for Sustainable Living project will be present during Ungdommens Folkemøde NORD in Copenhagen on 21-22 April. Through funding from Sustainable Living, four youth organisations will participate and promote different aspects of sustainability during the event.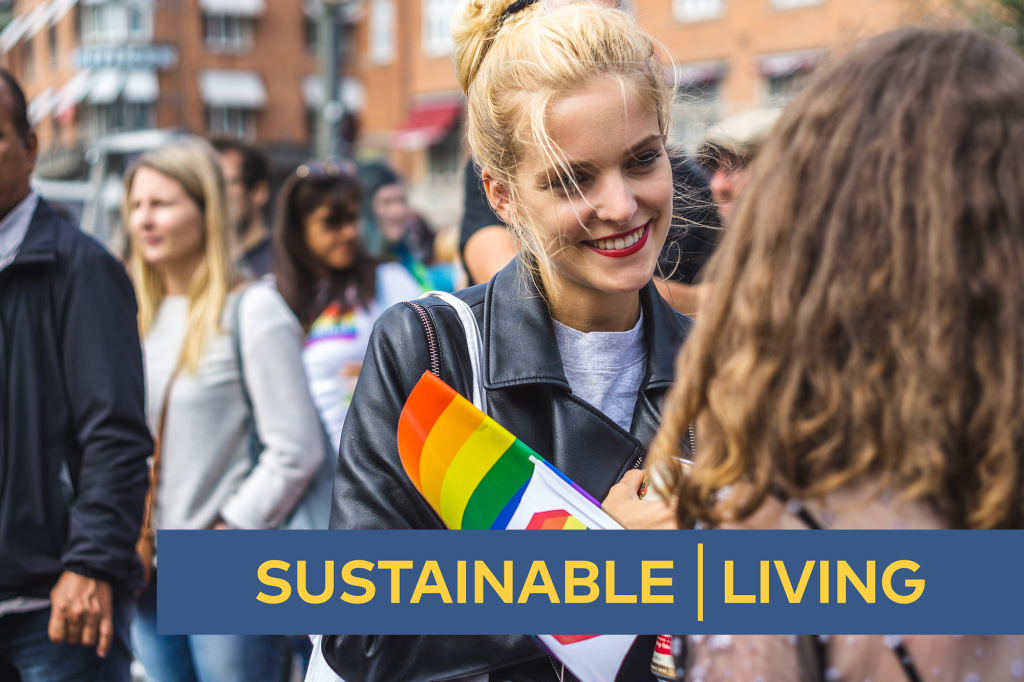 ReGeneration 2030
You have the power to fight for a better future!
We need collective youth power for system change, and ReGeneration 2030 will help you to find a role in the sustainability movement that suits you. Learn more about tangible actions and find out more about different youth sustainability organisations in different regions, and participate in creating an interactive artwork piece in the container to demonstrate your commitment to fighting climate change collectively.
Visit their container: Friday at 14-19 and Saturday at 13-19, Sustainability & Future theme area.
Listen to their talk: Friday, April 21, at 17-17.30, Sustainability & Future stage.
ReGeneration 2030 is a youth movement for sustainability in the Nordic and Baltic Sea region, bringing activists aged 15-30 from across the region together to share knowledge and strategize. ReGeneration 2030 is on a mission to fight climate collapse and build a sustainable future for all.
Tænketanken Frej
Can we on the one hand be climate heroes who lead the way and on the other hand, be some of those who burden the planet the most?
Tænketanken Frej focuses on food consumption and changes in food culture among young people. Is it really up to the individual to make a difference, or is it up to the system and political regulation to change the world? The panel debate on the stage engages several representatives and involves the audience.
In their container, you can pop by for legume bingo, taste plant-based drink options and get to know more about their climate footprint.
Visit their container: Friday at 14-19 and Saturday at 13-19, Wellbeing & Creativity theme area.
Listen to their talk: Friday, April 21, at 15.15-15.45, Wellbeing & Creativity stage.
Tænketanken Frej is a think thank that works to ensure that Denmark's food sector becomes increasingly sustainable. Frej works to bridge the gap between city and countryside, creating an interdisciplinary movement where solutions and action to some of today's challenges (such as climate, environment, health and animal welfare) can be found together.
Future Minds
Youth power – the world's best chance to recover
Global partnerships are a key issue and perhaps the biggest wager for the sustainability of our time. The world needs transformative change, which can only become radical enough against the background of partnerships – it is what will dictate our and future generations' "breakdown" or "breakthrough." But to "leave no one behind," we need to see more intergenerational fairness and solidarity and provide not only opportunities but real structures for the young to participate. In this interactive talk, we will investigate how we can strengthen the social contracts to produce results for a sustainable transformation while inviting the young without letting them bear the ultimate responsibility in our already uncertain future.
Listen to their talk: Saturday, April 22, at 16.30-17.00, Identity & Equality stage.
Future Minds is an educational program in sustainable development for high schools. The program aims to increase students' and teachers' knowledge and skills regarding sustainability, to make young students experts on the most important issues of our time.
Nordic Pioneers
Nordic Pioneers will highlight the importance of youth engagement in civil society and democracy, and the importance of female representation in STEM fields (Science, Technology, Engineering, Mathematics). Some of the Nordic Pioneers finalists from the past two years will also be present and bring up the creative solutions they have found to Nordic societal issues.
Visit their container: Friday at 14-19 and Saturday at 13-19, Identity & Equality theme area.
Nordic Pioneers is a youth initiative and changemaker network celebrating and promoting the great role played by youth in generating safe, democratic local communities.
Youth for Sustainable Living
Youth for Sustainable Living is part of a programme with the aim of making it easier to live climate-friendly in the Nordic Region. The Sustainable Living programme includes projects on food, education, culture, gender, youth, and the Swan Ecolabel. It is coordinated by Nordregio and funded by the Nordic Council of Ministers. Read more about Sustainable Living here.

Ungdommens Folkemøde NORD
Ungdommens Folkemøde NORD is a Nordic democracy festival taking place at URBAN 13 in Nørrebro on 21-22 April where Nordic youth through workshops, creative expressions, and dialogue share experiences and inspiration across the region. For two days, decision makers, organizations, and activists will take on some of the democratic challenges of the Nordic region. The festival aims to strengthen the democratic self-confidence of Nordic youth and kickstart the social and cultural community of the Nordic region.