5-12 November, Watch all events from the Nordic Pavilions in Glasgow and Helsinki online:
https://www.norden.org/en/information/live-broadcasts-cop26
---
9th November: 9/11 – COP26 from a Swedish perspective
Norden i Fokus and The British Embassy in Sweden are organizing events about the climate on Tuesday 9th of November at Kulturhuset, Stockholm. It is a part of all the activities that The Nordic Cooperation organize connected to COP26 in Glasgow. In a joint event with the Nordic COP26 Hub in Helsinki we give you a unique opportunity to ask your questions straight to the people in charge.

Research Fellow Mari Woen from Nordregio participates a panel discussion on sustainable food chains.
Read more here: https://www.norden.org/en/event/lunch-briefing-cop26-swedish-perspective
---
Rural Policies & Climate Change – a joint OECD and Nordregio event
Rural areas are crucial for the green transition. They cover around 80% of OECD countries' territories and contain natural resources, ecosystem services and people with necessary skills to ensure livelihood. However, climate change makes these areas vulnerable. Nordregio and OECD are inviting you to a COP26 session to discuss the crucial contribution of rural regions in the transition to net-zero economies. The event takes place in the Nordic Pavilion in Glasgow and online.
During the session "Rural policies & climate change: Why rural areas are crucial for green transition", OECD will launch the Rural Agenda for Climate Action.
Following the launch presentation, high-level officials from the US, Japan, the UK and the Nordics will discuss how to accelerate the transition to rural net-zero economies in different countries and regions.
The second part of the event will be dedicated to sharing best practices from the Nordics, the EU and the US, unveiling rural opportunities through the promotion of bioeconomy and renewable energy use in rural areas.
---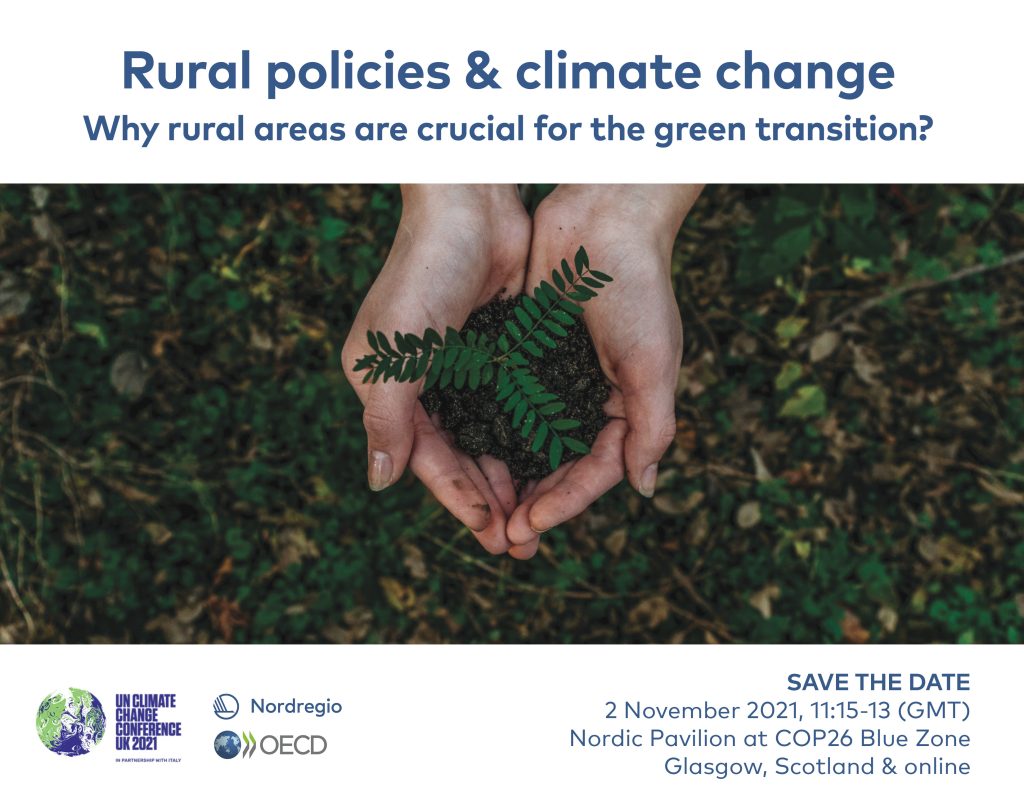 ---
Agenda
Master of Ceremony:
Michael Funch (Nordic Council of Ministers)

11:15-11:25 Welcome remarks
• Lamia Kamal-Chaoui, Director, OECD Centre for Entrepreneurship, SMEs, Regions and Cities
• Karen Refsgaard, Deputy Director, Nordregio

11:25-12:08 High-level panel

Opening Case
• Alfons Röblom, Minister of Development, Autonomous Region of Åland, Finland

High-level Panel
• Moderator: Jose Enrique Garcilazo, Head of Unit, OECD Centre for Entrepreneurship, SMEs, Regions and Cities
• Tom Vilsack, Secretary, United States Department for Agriculture, USA
• Yoshiki Takeuchi, Deputy Secretary General, OECD
• Jaana Husu-Kallio, Permanent Secretary, Ministry of Forestry and Agriculture, Finland
• Johan Krafft, Director General, Ministry of Enterprise and Innovation, Sweden


12:08-12:58 Best Practices Unveiling Rural Opportunities

1st session: Rural bio-economy – promoting rural development by harnessing the opportunities created through the transition to a bio-economy

• Moderator: Alberto Giacometti, Researcher, Nordregio
• Kajsa Resare Sahlin, PhD Student, Stockholm Resilience Centre, Sweden
• Ilaria Re, EU Project Officer, Consorzio Italbiotec, Italy

2nd session: Renewable energy in rural areas – realising the rural competitive advantage in generating renewable energy to power rural development

• Moderator: Lisanne Raderschall, Policy Analyst, OECD Centre for Entrepreneurship, SMEs, Regions and Cities
• Christopher Sorensen, CEO of GreenLab Skive, Denmark
• Nikolaos Komineas, Mayor of Astypalea, Greece
• Justin Maxson, Deputy Under Secretary for Rural Development, United States Department of Agriculture, USA

12:58-13:00 Closing remarks
• Dorothée Allain-Dupré, Head of Division, OECD Centre for Entrepreneurship, SMEs, Regions and Cities

Related Staff