The second 5G matchmaking event takes place on the 20th of April, at 14-15.30 CET. We focus on smart societies and the transport and mobility sector through inspiring examples: cross-border mobility and automation in logistics.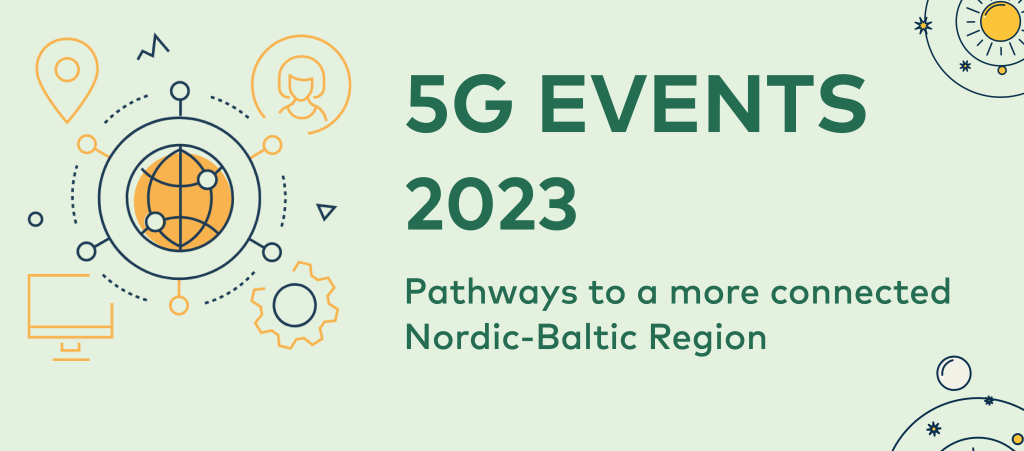 5G enables a more connected transport sector
Effective transport and mobility are essential in building smarter societies. 5G has significant potential to revolutionize how we travel and transport goods. 5G connectivity enables connected and autonomous vehicles and can improve logistics efficiency. 5G can also make roads safer and more environmentally friendly while saving costs.
During our second 5G matchmaking event, we will again:
Frame the issue: Share inspirational stories and learnings from the Nordic and Baltic countries, as well as other European countries, on the role of 5G in smart societies, especially focusing on mobility and transport examples.
Provide a platform for discussion and foster networking: Promoting the debate on 5G research and innovation in the transport and mobility vertical, multi-actor collaborations, and overcoming the gap in research-to-practice/industry.
We encourage you to submit ideas for your own 5-min pitch (see more in the registration). This allows you to bring forward your own specific 5G matchmaking needs as well as current challenges and questions.
What: Second 5G matchmaking event with a focus on transport and mobility
When: 20 April at 14-15.30 CET
Where: Online (a Zoom link will be sent to all participants after registration)
Why: To gain new insights, get inspired, share ideas, and network
Our keynote speakers:
Anna Schieben, 5G Living Lab Consortium Leader at Institute of Transportation Systems, German Aerospace Centre (DLR): Mobility Use Cases of the 5G Living Lab in the Mobility Region Braunschweig-Wolfsburg
Elina Lidere, 5G Innovation Lead at Latvijas Mobilais Telefons SIA: 5G Routes: Testbed for Cross-border Mobility in Europe
Petri Kalske, Head of Industrial Solutions at Unikie: Data Driven Optimization and Automation in Ports & Logistics
---
In 2023, Nordregio will host five matchmaking events that will offer possibilities for actors to share experiences and build new partnerships focusing on different topics. The aim is to inform key stakeholders about what is going on in the 5G/6G landscape and to facilitate connections between Nordic-Baltic actors to initiate or enhance regional cooperation.
What do the events offer?
• Showcasing what's happening in the Nordic-Baltic mobile technology landscape, presenting 5G potential and promise in different topics.
• Enabling a platform for discussion: A community for sharing experiences.
• Fostering network creation: Promoting or enhancing cross-national cooperation.