Are you longing for big family celebrations or secretly feeling relieved and excited to spend this Christmas on your own? In 2020, Christmas is going to be more digital and more local than ever. Nordregio's Home Alone Christmas Map tells you exactly how to prepare for it.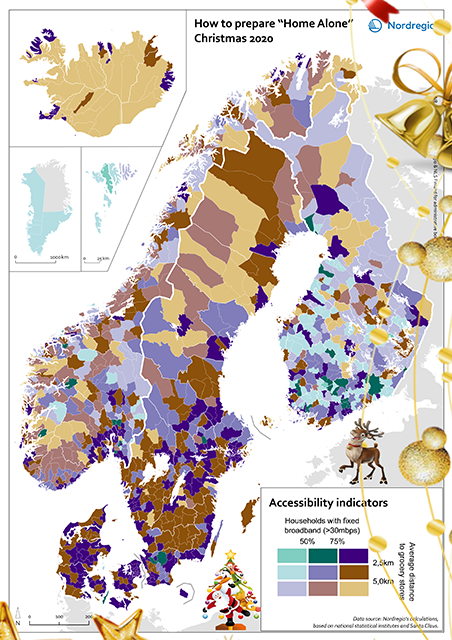 A good internet connection and access to grocery stores are very important success factors when one must spend a "Home Alone" style Christmas this year. For those of you who are saddened by the Christmas restrictions, we have good news. The recent developments in digital solutions allow us to meet and celebrate with family and friends online. And for those of you who are feeling relief when thinking about skipping the celebrations, you can still blame it on the poor broadband connection if you live in some parts of Finland, Norway, the Faroe Islands or Greenland, but do not try this excuse in Denmark, Sweden, Iceland or Åland. You could instead find comfort in endless streaming possibilities for Christmas movies!
Due to travel restrictions, near and far, the go-to place this year is our very own, local grocery store – plan for an evening to remember with a local twist. Unless you planned ahead and ordered most food items online. If you are running late, as usual, every kilometer and mile counts when you are rushing to the local store to fight over the last piece of ham. We see no reason to worry for late-runners in most cities across the Nordic Region. But if you are in Iceland or the northern parts of Finland or Sweden – well, we really hope you have planned ahead.
As you can see on the map, Home Alone Christmas conditions vary greatly across the Nordic Region. Take a look at the municipality you live in and find yours, based on these two accessibility indicators:
The share of households with fixed broadband of at least 30mbps is used to measure the quality and distribution of internet connection. The higher the percentage, the bigger chance you will have an uninterrupted online celebration!
The average distance to grocery stores is used to estimate the time required to get your Christmas food: the closer to a grocery store, the more spontaneous you can be.
Photo borrowed: www.forbes.com, 'Home Alone' 20TH CENTURY FOX
Related Staff