The distribution of refugees is of growing interest in the Nordic Region due to both unprecedented in-flows of migrants, and demographic challenges relating to depopulation in many rural areas. Rural municipalities are increasingly recognising the important contributions these newcomers can make to local communities and are pursuing policies that encouraging them to stay.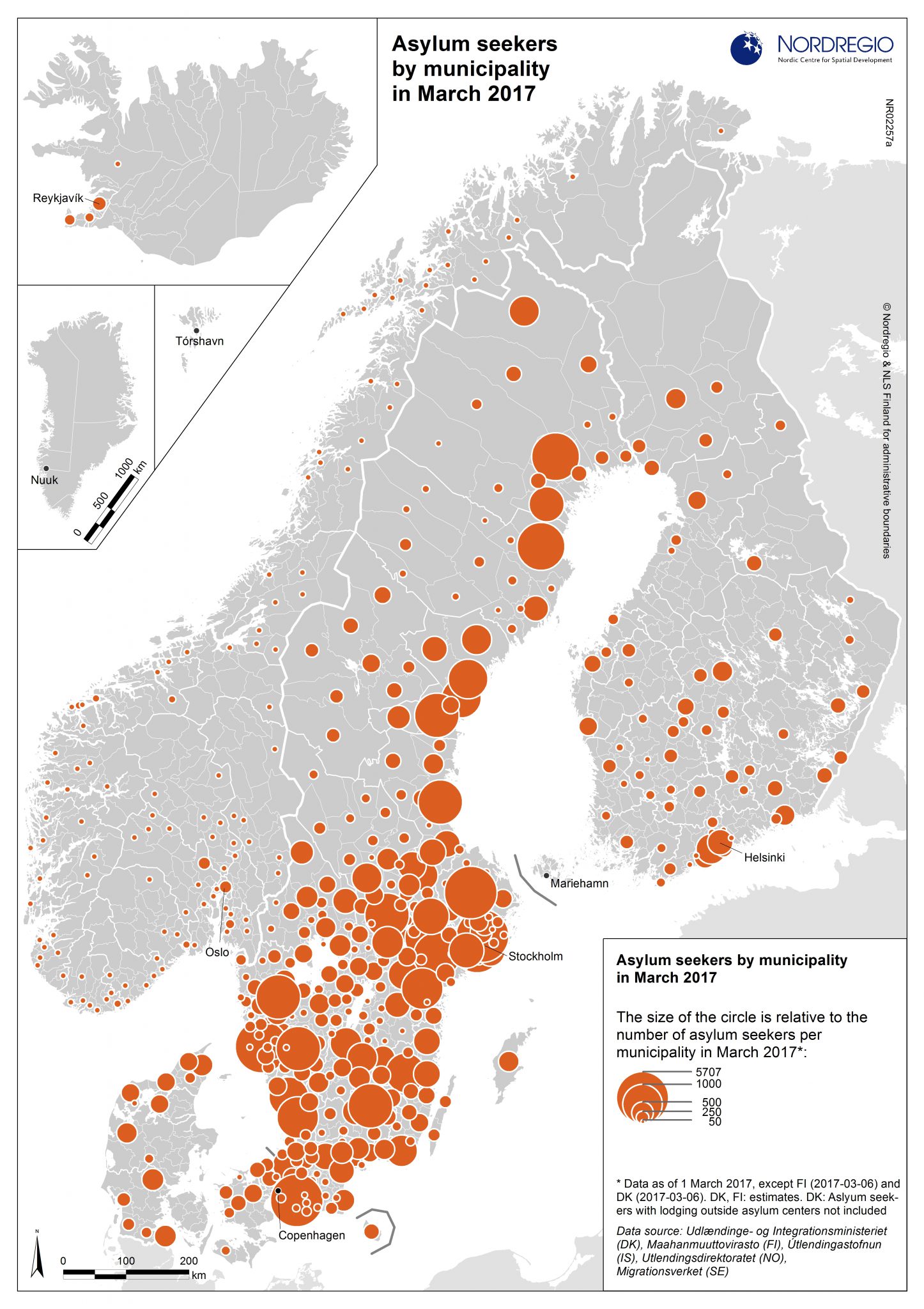 The map shows that, in March 2017, a large portion of the asylum seekers in the Nordic Region were housed in Sweden. In fact, the 35 Nordic municipalities hosting the largest number of asylum seekers in March 2017 were all in Sweden, housing between 760 and 5707 asylum seekers each. It is worth noting that the municipalities housing the largest number of asylum seekers are not necessarily those which are the largest numbers in the context of the population, for example, several municipalities along the coast of Norrland.
The map also highlights the spatial consequences of different national policies regarding the housing of asylum seekers. For example, in Sweden, although each asylum seeker has the right to settle in any municipality, each municipality is required to host asylum seekers resulting in distribution across the country. In Finland and, even more so, in Denmark (particularly in peripheral municipalities in north-western Jutland and on the island of Bornholm), municipalities with asylum centres host the majority of the country's asylum seekers. A similar case is evident in Iceland, with asylum seekers confined to municipalities in or close to the capital region where Iceland's asylum centres are located. In Norway, on the other hand, the number of municipalities hosting asylum centres is larger than in Denmark and Finland, but each host a significantly smaller number of asylum seekers.
Related Staff