The map shows the relative change in the number of overnight stays at the regional level between 2019 and 2020 for foreign visitors.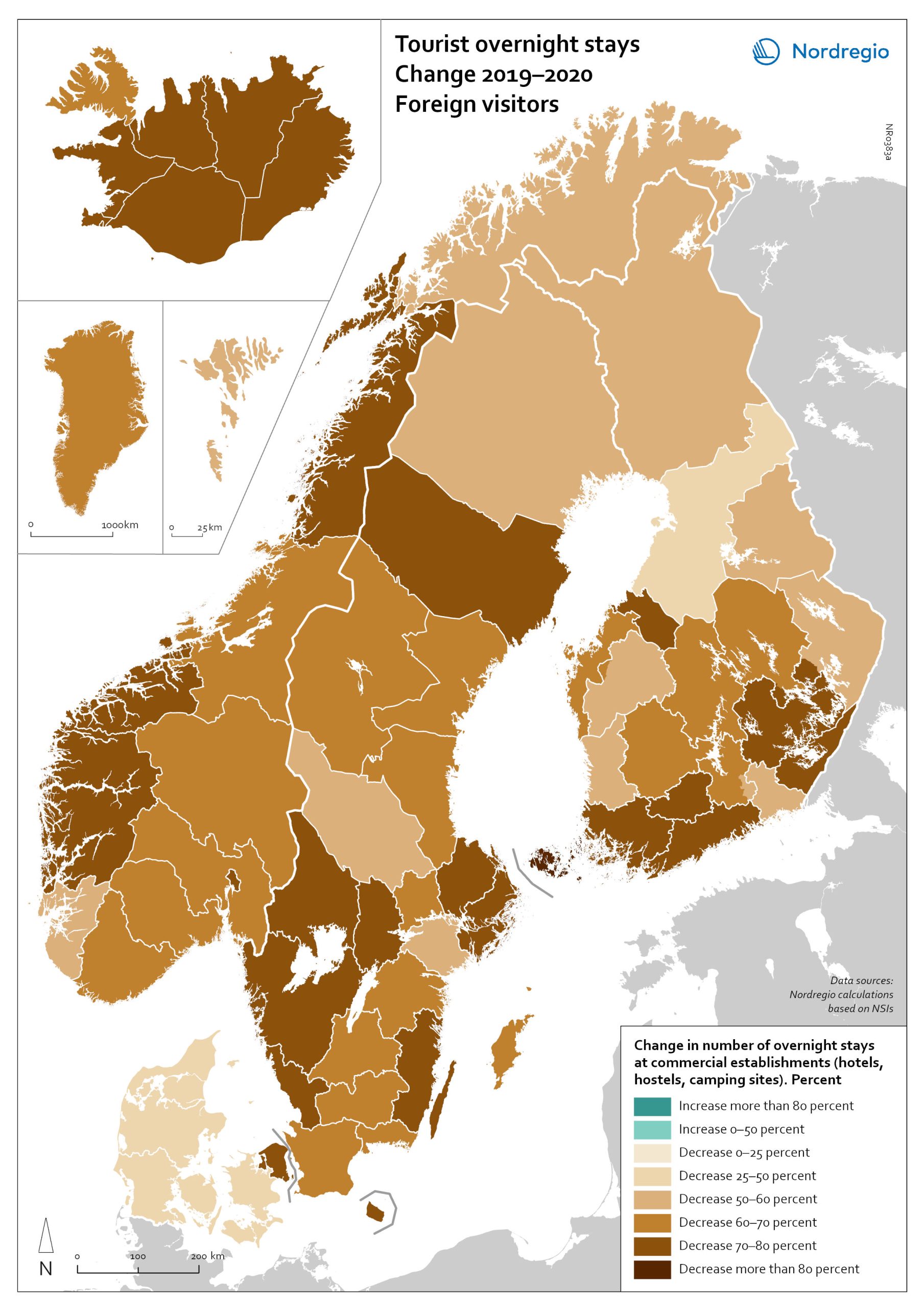 This map is related to the same map showing change in overnight stays for domestic visitors 2019–2020. The sharpest fall in visitors from abroad was in destinations where foreign tourists usually make up a high proportion of the total visitors. This is particularly relevant to islands like Åland (89% decrease on foreign visitors, from early 2019 to mid-2020) and to Iceland (66-77% drop depending on region). Lofoten and Nordland County in Norway, as well as Western Norway with Møre and Romsdal, which also have a high proportion of international tourists during the summer season due to their scenic landscape, also recorded sharp falls of 77-79% on foreign visitors during the same period.
In Finland, the lake district (South Savo) and Southern Karelia, as well as the coastal Central Ostrobothnia (major cities Vasa and Karleby), recorded a 75-77% drop in the number of visitors from abroad. The fall here was mainly due to the lack of tourists from Russia. Even Finnish Lapland suffered a major fall in international visits during the winter peak period. For many local businesses that rely heavily on winter holidaymakers, the 2021/22 winter was a make-or-break season. In Sweden, the regions of Kalmar, Västra Götaland, Värmland and Örebro lost 77–79% of visitors from abroad, probably due to much fewer visitors from neighbouring Norway and from Denmark. In Denmark, the number of overnight stays by visitors from abroad to the Capital Region was down by 73%, whereas the number of domestic visitors declined by 27%.
No region lost as many overnight visitors, both from abroad and domestic, as the capital cities and larger urban areas in the Nordic countries. Copenhagen, Oslo, Stockholm, Helsinki and Reykjavik experienced declines of 71–77% for visitors from abroad. Declines were also recorded for domestic tourists (13-45%) in all major Nordic cities but in Oslo, which had 28% more overnight stays by domestic tourists in 2020 than 2019 – see map showing change in overnight stays for domestic visitors 2019–2020. There is, however, evidence that remote rural areas in some regions became popular summer destinations in 2020 and 2021. All regions in Denmark, except the Capital Region, as well as Sørlandet in Agder region in Norway, experienced an increase of local visitors in 2020 compared to 2019, but still the effect was less marked than it was in Iceland. Here, the more remote regions of Vestfirðir had up to 55% more overnight visitors, with the biggest increase in the Northeast (66%) and Eastfjords (110%). In these regions, all types of accommodation (from hotels to camping sites) were fully booked during the summer of 2020 and 2021.
Related Staff
Related Publications
Related Events