The Nordic workshop on bioeconomy was held in Stockholm on January 15th 2014. The workshop that was organised by Nordregio focused on bioeconomy, particularly within regional development, innovation, and entrepreneurship. The participants of the workshop represented national authorities, businesses and academia, as well as international institutions from Nordic countries and Estonia.
---
Presentations
Strategic Programme for Cleantech – Kaisu Annala, Strategic Director, Cleantech, Ministry of Employment and the Economy, Finland
Green Growth and Bioeconomy from an International Perspective – Dr. James Philp, OECD
The EU Bioeconomy Observatory – Damien Plan, Policy Officer, DG JRC A2, European Commission
Green growth – innovation and entrepreneurship Nordic Working Group – Jukka Teräs, Senior Research Fellow, Nordregio & Lise Smed Olsen, Research
Bioeconomy – An Icelandic approach – Sveinn Margeirsson, CEO, Matis Innovation
A wood biorefinery cluster in northern Sweden – Clas Engström, CEO, Processum AB
Green Growth/Bioeconomy innovative actions in rural regions – Ari Alatossava, CEO, Micropolis Technology Park
---
The international session of the workshop included two key note presentations on Bioeconomy, by James Philp from the OECD and Damien Plan from the European Bioeconomy Observatory. The international session was followed by a Nordic session with case study presentations by Sveinn Margeirsson from Matis Innovation in Iceland, Clas Engström from Processum in Sweden, and Ari Alatossava from Micropolis in Finland. The workshop also included an intensive group work session, focusing on major opportunities to further develop Nordic bioeconomy.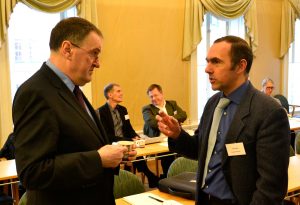 Key note speakers James Philp and Damien Plan
The workshop revealed the vast amount of bioeconomy related activities that are already taking place in Nordic regions, with great diversity. However, it was stated by several participants, that the international visibility of Nordic bioeconomy, e.g. at the EU level, requires improvement. The unanimous conclusion from the workshop discussions was that intensifying cooperation between actors in the Nordic countries is highly welcomed and essential in building a more competitive Nordic bioeconomy. The workshop provided further a good occasion for building important new connections and networks between various actors working with bioeconomy in the Nordic countries and internationally.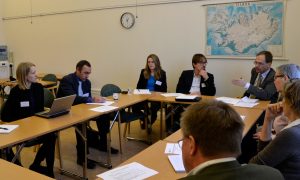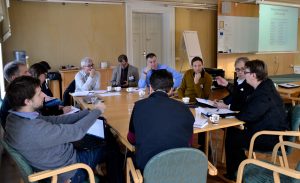 Group discussions during the workshop
The Nordic workshop on bioeconomy was organised as a part of the Nordic Working Group on Green Growth – Innovation and Entrepreneurship's activities. The Working Group was established by the Nordic Committee of Senior Officials for Regional Policy of the Nordic Council of Ministers in 2013 and promotes environmentally friendly innovation and entrepreneurship in the Nordic countries. Nordregio acts as the secretariat of the Nordic Working Group.
Related Staff
Related Research