19-20 October SIMPACT project meeting highlights Social Innovation (SI) in the public sector and 25-26 October Nordregio hosts two sessions at the biggest Nordic SI event: Malmö Social Innovation Summit.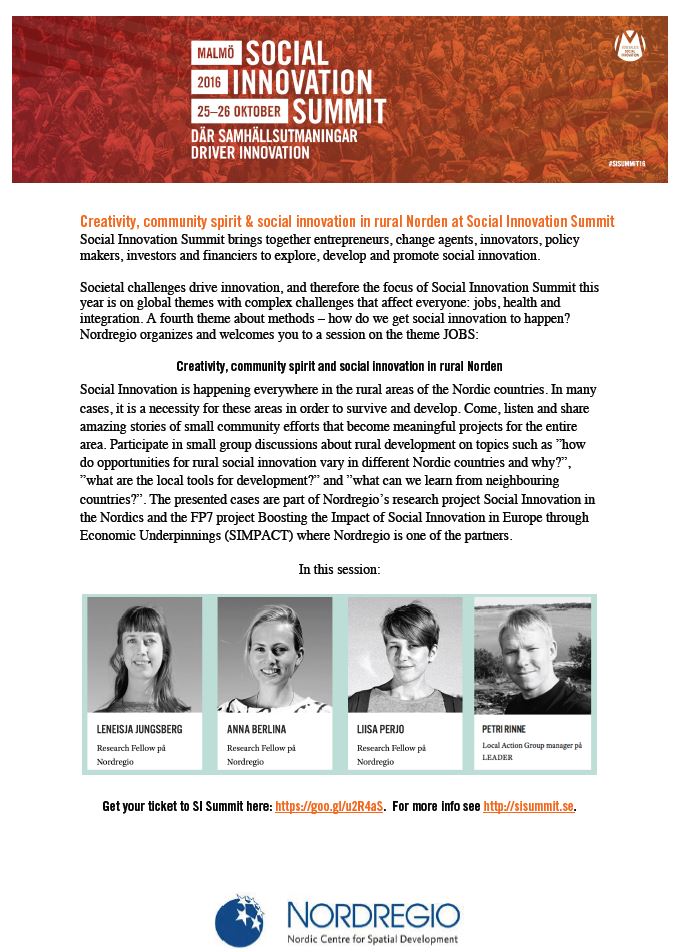 Social Innovation Summit 25-26 October
Nordregio participates Social Innovation Summit in Malmö. Nordregio hosts Creativity, community spirit & social innovation in rural Norden at Social Innovation Summit on the 26th and gives a presentation on the 25th. EU Rural development expert Petri Rinne from Finland will join us and tell more about local development tools and financing possibilities and challenges in the rural areas. Nordregio will also organize a lunch meeting with Nordic SIX.
Read more about SIX network and join! http://www.socialinnovationexchange.org/home
Read about the workshop (pdf) Creativity community spirit social innovation in rural Norden at Social Innovation Summit (2)
Read more about Malmö Summit: http://sisummit.se/
Nordregio has recently published an online database on Social innovation in the Nordic countries and Scotland 8see the modules on the right and visit the site!
SIMPACT project meeting 19-20 October
On 19th-20th October, SIMPACT's Social Innovation and Public Sector Innovation Symposium will explore the conditions under which the state either enables or constrains effective social innovation, and how it can transcend the boundaries between different actors. We will examine how social innovation is closely linked to public sector innovation, particularly in relation to new modes of policy production and implementation. We will identify the new forms of organisation within the state that enable such innovation by challenging functional demarcations and role definitions.This highly interactive Symposium will facilitate exchanges of knowledge and experience between researchers, policy practitioners and social innovation strategists. Exemplary cases of groundbreaking policy practice and partnerships will be explored, and participants will be invited to help define 'what works' in designing a future social innovation policy framework for Europe.