What started with a problem is now an opportunity. Sotenäs municipality's industrial symbiosis initiative showcases a successful example of how collaboration between businesses and institutions can help materialise a circular economy. Their Center of Symbiosis now serves as inspiration for many, including the latest visitors from Lithuania, in the context of the BioBaltic project led by Nordregio.
Nordregio, together with the Nordic Council of Ministers office in Lithuania and academic partners organised a visit to Sotenäs with guests from Lithuania, including local authorities, chambers of commerce, innovation agency and academia. The aim was both to learn about Sotenäs experience and to reflect about the potential of industrial symbiosis in Lithuania.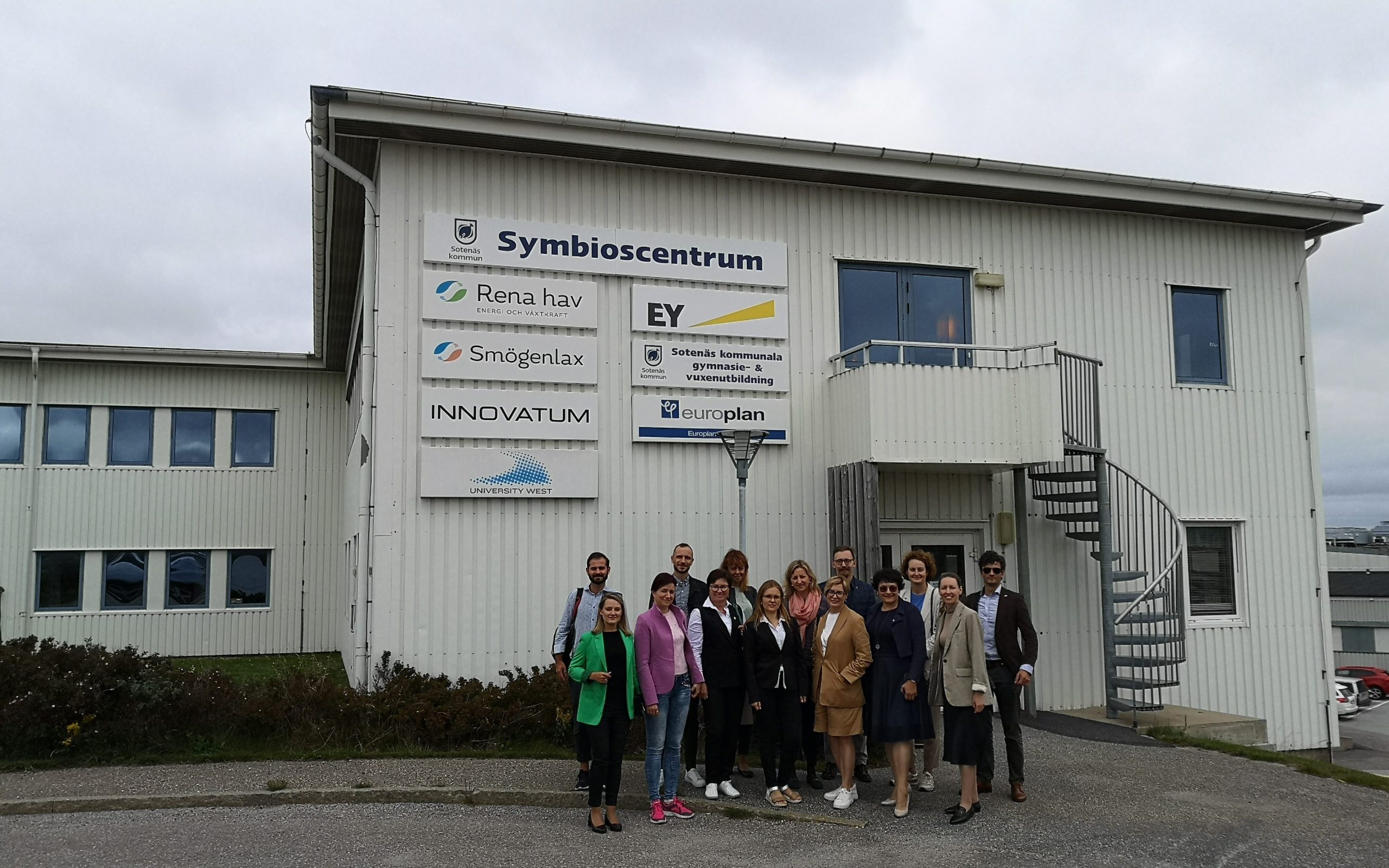 A journey towards industrial symbiosis
Located on Sweden's west coast in Västra Götaland region, Sotenäs municipality has taken a giant leap forward towards sustainability. The journey began by acknowledging the environmental impact of the local industry and, rather than dwelling on the problems, local stakeholders focused on the opportunities of transforming waste into resources. Their keyword became 'symbiosis'. Home to some of Sweden's largest fish industries, including Orkla Foods Sweden AB, Lerøy Smögen Seafood AB and Marenor AB, significant residues found their way onto the sea. However, tightened EU regulations put doubts about the companies' future development and operations in Sotenäs. It is in this context that the idea of establishing a biogas plant, Renahav AB, came about, which is now the backbone sustaining the symbiotic relations between different industries. 
This is how it works in short: the fish industries deliver their waste to Renahav biogas plant, which in turn generates energy for the industries operations, and biogas digestate, which is used as biofertiliser to grow organic rapeseed and other crops at Klevs farms. After these initial symbiotic links, new companies emerged and linked to the network, such as the microbrewery Smögen Ale AB, which delivers its residue malt, or draff, to the biogas plant, and the Swedish Algae Factory, which extracts "algica" (a silica material derived from algae) with various applications, from solar cells to cosmetics. Also, the land-based salmon farm Smögenlax AB will be soon established in what they call an "aqua symbios" with the biogas plant and with the Swedish Algae Factory. The algae will help with the purification process of the nutrient-rich water resulting from the fish farms.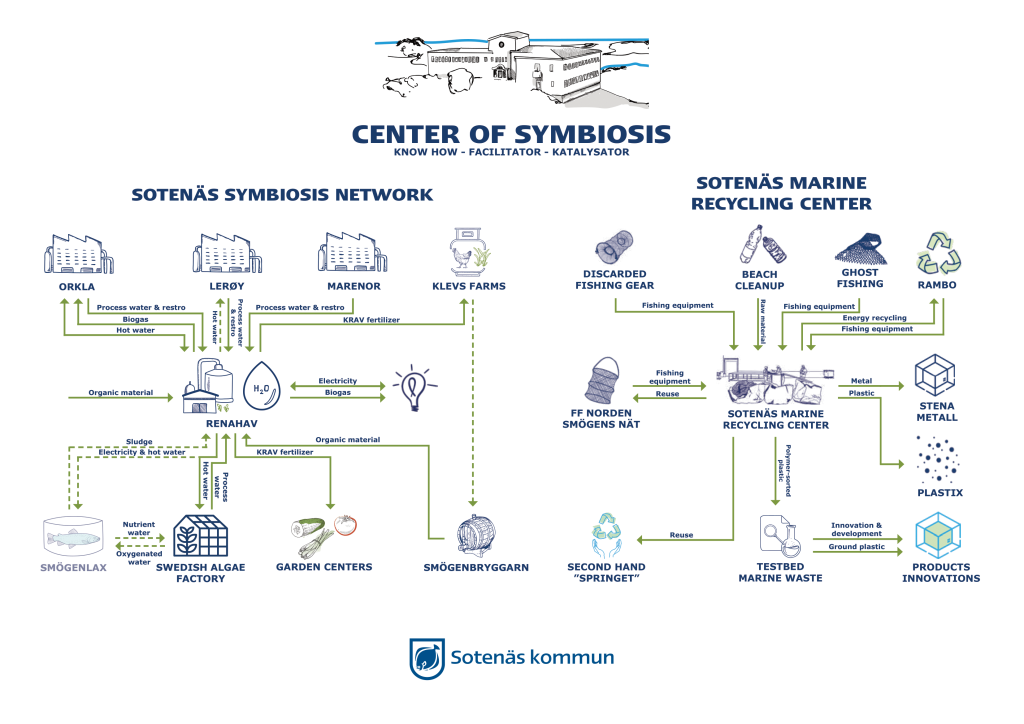 Dedicated municipal officials and local entrepreneurs were at the heart of this transformation. They had a vision on how to do things differently and they joined forces to make it happen.
"We are trying to copy nature, not putting ourselves above it" explained Leif Andreasson, municipality official and one of the initiators of the symbiosis efforts. After an inspirational trip in 2013 to the world-famous case of industrial symbiosis in Kalundborg, Denmark, a local businessman decided to, not only  invest in the biogas plant but also in an industrial symbiosis network, and the municipality to establish the Center of Symbiosis in 2015. Today the Center of Symbiosis serves as a platform for local businesses and stakeholders to meet and discuss innovative ideas. 
A crucial element of the success in Sotenäs is that this transformation was not only good for the environment but for business as well.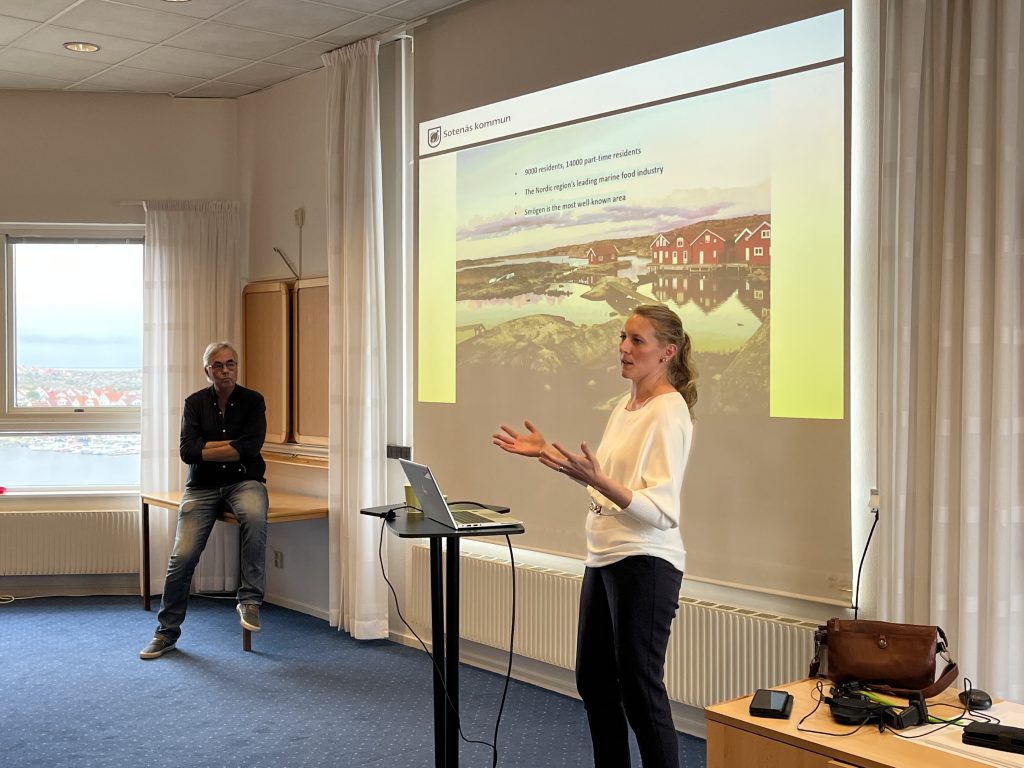 "It's a no-brainer," emphasises Leif Andreasson, "Do you want to pay for your waste, or do you want to get paid for your waste?". The food industries were unaware that they were throwing billions of crowns into the sea, he adds. This shift in mindset also changed the look on waste in general:
"We don't call it waste anymore – we call it resources", Andreasson summarised.
Now Sotenäs is a source of inspiration on how to embark on a journey towards circular economy. The Lithuanian delegation of changemakers visited the coastal municipality not to copy their example but to get inspired, and explore the opportunities offered by their own local conditions, the businesses and resource flows available in their territory.
As contribution from the BioBaltic project, partners from Vytautas Magnus University and Vilnius University, have investigated the resource flows and potential uses of side-streams in the municipalities of Marijampolė, Panevėžys city and district, Tauragė district, and Telšiai district. The results show that there is an important potential to scale up its bioeconomy, given the sizeable and growing biomass production and processing industry. This can be achieved by means of technology application, but also via establishing symbiotic collaborations between industries and other stakeholders.
"1 + 1 = 3", Andreasson explained, referring to the results of collaboration in Sotenäs. However, Lithuania struggles with seizing the opportunities that come with collaboration. Decision-making is highly centralised, making stakeholders at the local level feel unempowered. However, it is also a matter of mindset. With this study visit to Sotenäs, we hope to inspire Lithuanian changemakers on how to initiate processes that can lead to new collaborations with very practical implications, which can ultimately lead to sustainable practices, and more resilient societies and economies. Ultimately, it all boils down to people, connections, and trust – to push for change together.
Symbiosis is about solving challenges and connecting actors – and a shift of mindset
We often learn by seeing real existing examples – so we took to the streets of Sotenäs to visit some examples of symbiosis in action. These actors are a part of the symbiosis community and are trained to see possibilities for new collaborations and the use of resources.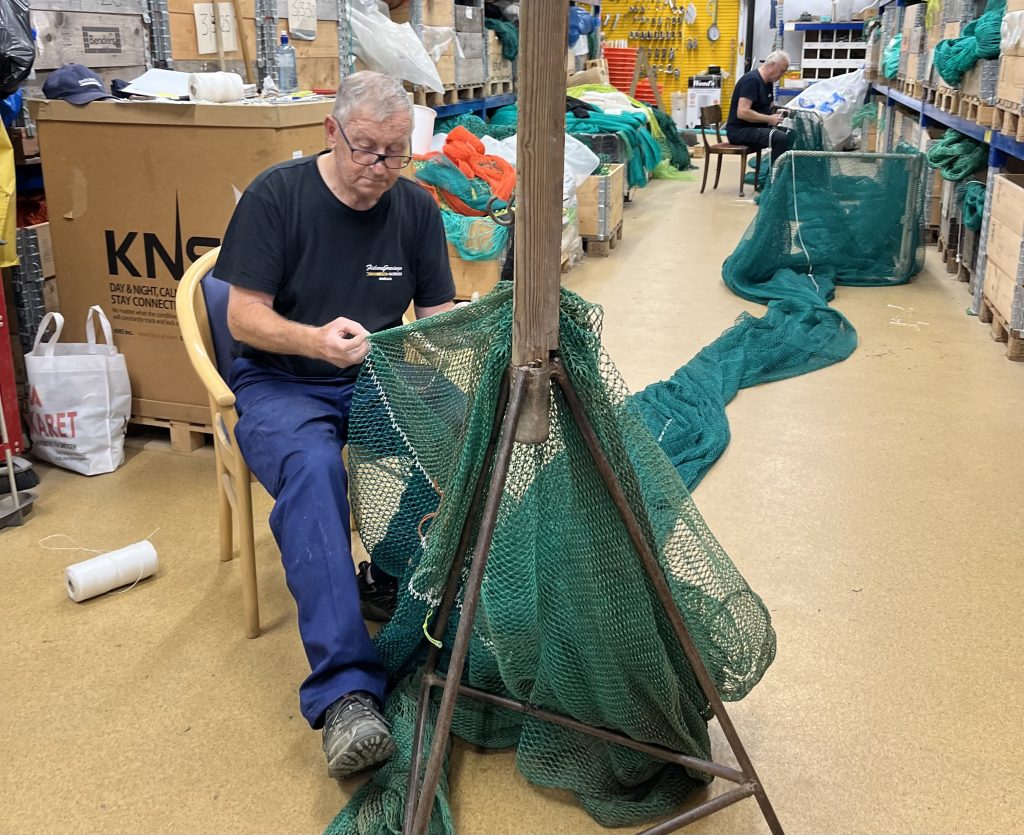 There are several other interesting developments in Sotenäs, in addition to the companies and initiatives connected through industrial symbiosis.
Fiskareföreningen Norden, a fisherman-owned association, based in Smögen, has been active since 1937. The association, also owner of Smögens Nät, is Sweden's only producer of fishing gear and largest trawl workshop focusing on marine development, selectivity, and a clean sea. As fish stocks are threatened by overfishing and bad fishing practices, they have developed selective fishing gear with efficient adaptations to catch only the fish species targeted, and of specific size, allowing smaller and larger fish to swim through the nets.
"Regretfully, most fisheries are not using selective fishing gear despite the technology exists and is proven effective" comments Sixten, a long member of the association. He believes that stronger regulation is needed to enforce better practices and protect marine ecosystems.
Furthermore, Sweden's first Marine Recycling Centre, or Fiskereturen, takes care of marine waste collected from beach cleaning and recovered 'ghost nets' which are lost or abandoned fishing gear lying at the bottom of the sea, sometimes even for over thirty years. In the past fishing nets were made from cotton, and when lost at sea would simply degrade in a few years. However, nets today, are made of plastic, which can lay at sea for hundreds of years when lost, often catching, and killing fish unnecessarily. At first an initiative of Sotenäs municipality and local members of the community, the Marine Recycling Centre then received support from the Swedish government and various funding programmes to collect marine waste throughout Sweden's coast, sort, and send further to recycling. Often, Smögens Nät collects buoys or other items that are still in good condition to be reused when repairing or making new fishing gear. The recycling centre also counts with a creative space that serves as a test bed for companies or individuals that wish to test and develop innovative products made from recycled materials.
Smögen Ale, or Smögenbryggar'n, is an example of a business founded with the symbiosis mindset established in the backbone of the company. The brewery is a local initiative and promotes a vibrant coastal community and a sustainable marine environment. Their beers use products from the sea, such as seaweeds, sea salt and mussel shells recovered from local restaurants.
Learnings from the Lithuanian visitors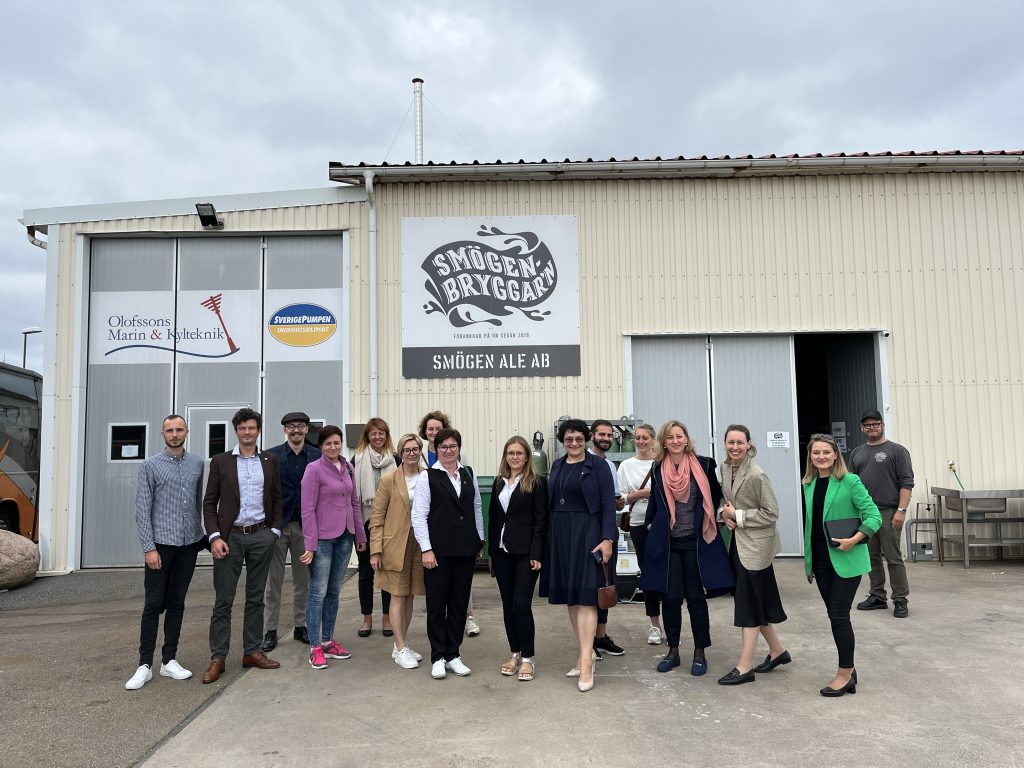 Some of the key learnings highlighted by participants are that "public sector plays an important role in initiating and promoting industrial symbiosis", that it requires "coordination between various sectors", and that "direct communication and openness is the way to establish trust between people". One participant noted that "symbiosis is first about the people, not about the infrastructure".
Looking forward, Lithuanian participants will bring home their new knowledge and competences to develop the Lithuanian industrial symbiosis. In their views, some of the actions that need to be taken in moving ahead is to create opportunities for "networking and learning from best practices", and to boost "communication to get actors to know each other and increase the willingness of collaboration and to make changes". Many also agreed that local administrations have a key role to play in "initiating and promoting industrial symbiosis" and should allocate funding and assign "permanent staff responsible for greener development".
Finally, when asked what steps their own organisations should take, one participant from academia highlighted the "possibility of integrating an Industrial Symbiosis course as an elective in the Master studies programme on Molecular Biotechnology at their university". The representative from Skuodas district municipality and Association "Klaipėda region" noted that they are "looking for builders and investors to understand how bioenergy should be done" and that they expect "the process to involve a lot of communication with sectors, building partnerships and attracting investments". explains ". Others have signalled that dialogue shall be fostered between chambers of commerce, local authorities, development agencies, and investors.
Symbiosis – lessons from Sotenäs
Networking. The human interaction is key for the symbiosis – not the infrastructure.
Innovation. Access to funding, knowledge and testing to develop innovative symbiosis approaches is helpful.
Smart adaptation first. Whether the aim is clean shores to enable tourism, getting rid of your waste in a favorable way, or increasing self-sufficiency – at the end of the day it needs a viable business model.
Physical proximity. Helpful to spur communication, and might be crucial for resource exchange.
Storytelling. Building a narrative of success – is a powerful tool to create a common vision and to attract new actors.
Watch a movie about Sotenäs Center of Symbiosis below:
---
The backdrop of the study trip is the BioBaltic project (ending in late 2023). Through practical activities and research, the BioBaltic project encourages collaboration among local stakeholders, exploring innovative governance and business models for bioeconomy. Read more about BioBaltic via the link below.