The project aims at deepening Nordic-Baltic cooperation around bio-circular-economy.
Both – Nordic and Baltic countries are rich in biological and renewable resources and have a long tradition in utilizing these resources for generating economic growth through the traditional sectors, such as forestry, agriculture, and fisheries, as well as related sectors including food processing, tourism etc.
This project provides a platform for generating awareness of different bioeconomy models through peer-to-peer learning and building networks across Baltic and Nordic countries. This collaboration will enable knowledge generation and exchange among multiple actors, including youth. The collaboration will focus on different aspects of bioeconomy transition, including financing aspects, industrial partnerships and symbiosis or the opportunities of digitalisation.
A two-way learning channel will be established between each Baltic country and the Nordic Countries through Nordregio. The 'Mobile Learning Hubs' (MLHs), coordinated by the NCM offices in Estonia, Latvia and Lithuania, will collect and disseminate practical and scientific knowledge on bio-circular-economy, in collaboration with local actors.
---
Discussion paper on Digitalisation of Food Systems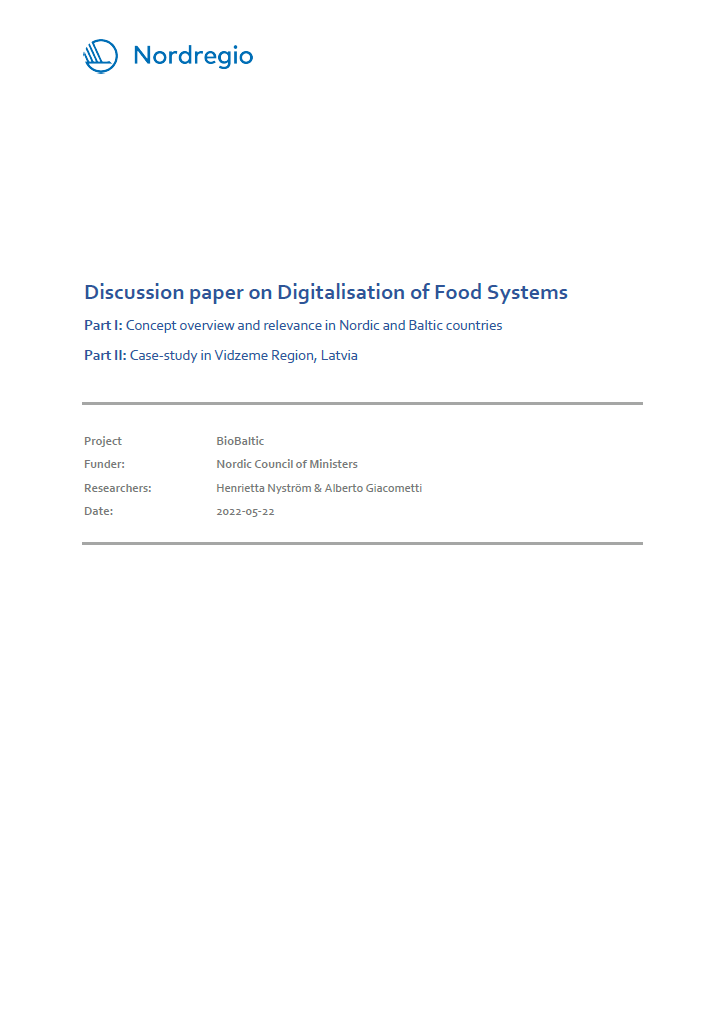 This discussion paper delves into one of the BioBaltic project focus areas, digitalisation in food systems.
Digitalisation is the process of large-scale adoption of digital technologies and is one contemporary trend affecting all economic sectors and society at large. In food systems, digital technologies have been implemented for decades, but the so-called digital transformation and requirements for more sustainable practices in food value chains have added pressure on the need for a speedy and large-scale implementation of existing and new innovations.
---
Related Staff
Related Research Projects