It has been a wet and disappointing wait for a white Christmas this year in most parts of the Southern Nordic Region. Meanwhile, the Northern parts of the Nordic Region have been enjoying an exceptionally good and snowy begin of the season. This year for our special edition Xmas Index, Nordregio has collaborated with Rudolf the red-nosed reindeer to make a foresight analysis of good sleigh conditions, and which parts of the Nordic Region are most likely to get a visit from Santa given the snow forecast.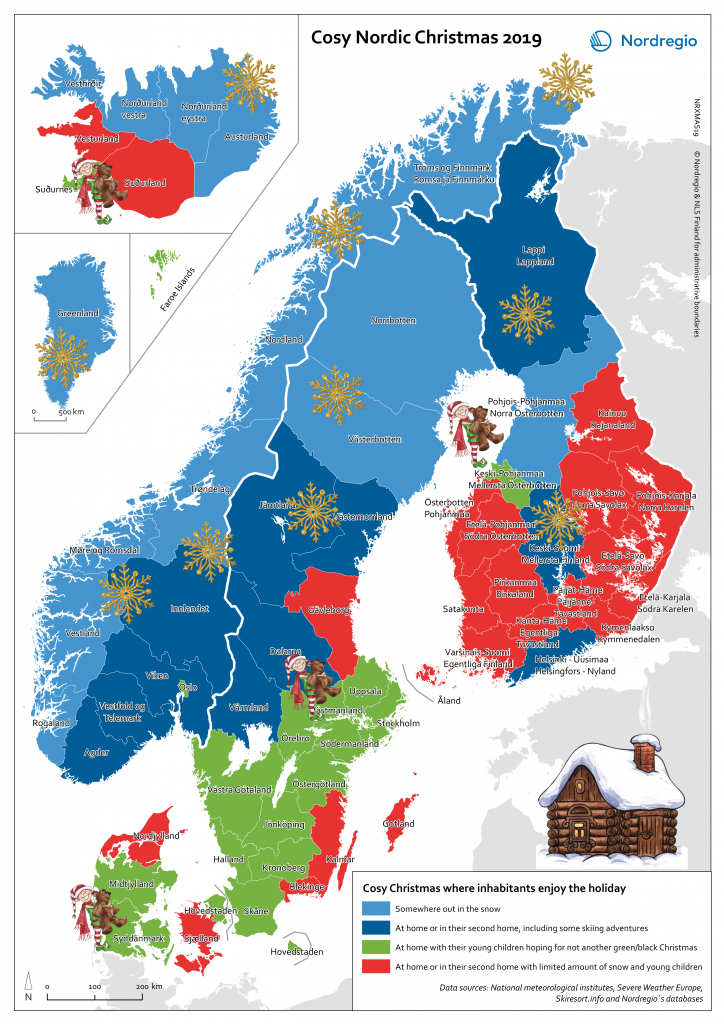 The snow depth data on December 25th of the previous years has been integrated into the geography of holiday homes and correlated with the amount of ski resorts available. From the Nordregio perspective, a cosy Christmas is snowy, preferably spent in a holiday home close to the ski slopes where one can burn the extra kilojoules and enjoy winter adventures. An essential factor that adds cosiness are young children that light up the mood with anticipation and thrill that is easily transmitted to the adults turning them young at heart. So, where can we expect to see children on their snow adventures and then again, where can we expect to see more holiday home visitors with a need for creative thinking when it comes to indoor games due to lack of snow? 
The Index reveals that most Norwegian regions are in for a treat as data projections predict a White Christmas – Hooray! Same goes for Västerbotten and Norrbotten regions in Sweden and Pohjois-Pohjanmaa in Finland as well as for Greenland as a whole, and Norðurland vestra and Norðurland eystra, Vestfirðir and Austurland in Iceland. 
But what is better than having a white Christmas? Having a white Christmas at your holiday home possibly close to the ski slopes. These lucky people are found in the south-eastern parts of Norway, mid-Sweden and Finnish Lapland, Keski-Suomi and the Helsinki capital region. For those who are planning to buy new sledges or ski boots for their kids for Christmas, we would recommend reconsidering going to the following regions to avoid the disappointed faces as there seems to be very little hope for white Christmas in: MidtJylland, Syddanmark and Hovedstaden in Denmark, Southern Sweden, Suðurnes in Iceland, The Faroe Islands and Keski-Pohjanmaa in Finland. Things look slightly brighter for people in Central Finland, Gävleborg, Kalmar, Gotland and Blekinge regions in Sweden as well as Sjælland and Nordjylland in Denmark and along the coast of Suðurland and Vesturland in Iceland. There is a poor chance for sledging, but due to the amount of holiday homes there is a fair chance for an invitation from the neighbours to join the indoor games. 
Nordregio wishes everyone a cosy and, hopefully, white Christmas 2019!   
Related Staff