Are you late with your Christmas presents this year and wondering what to get? No time to knit your loved ones a personalized Christmas sweater? The answer to your panic could be a cultural experience. But where? Nordregio's new map showing access to culture will guide you to the hidden gems in the Nordics!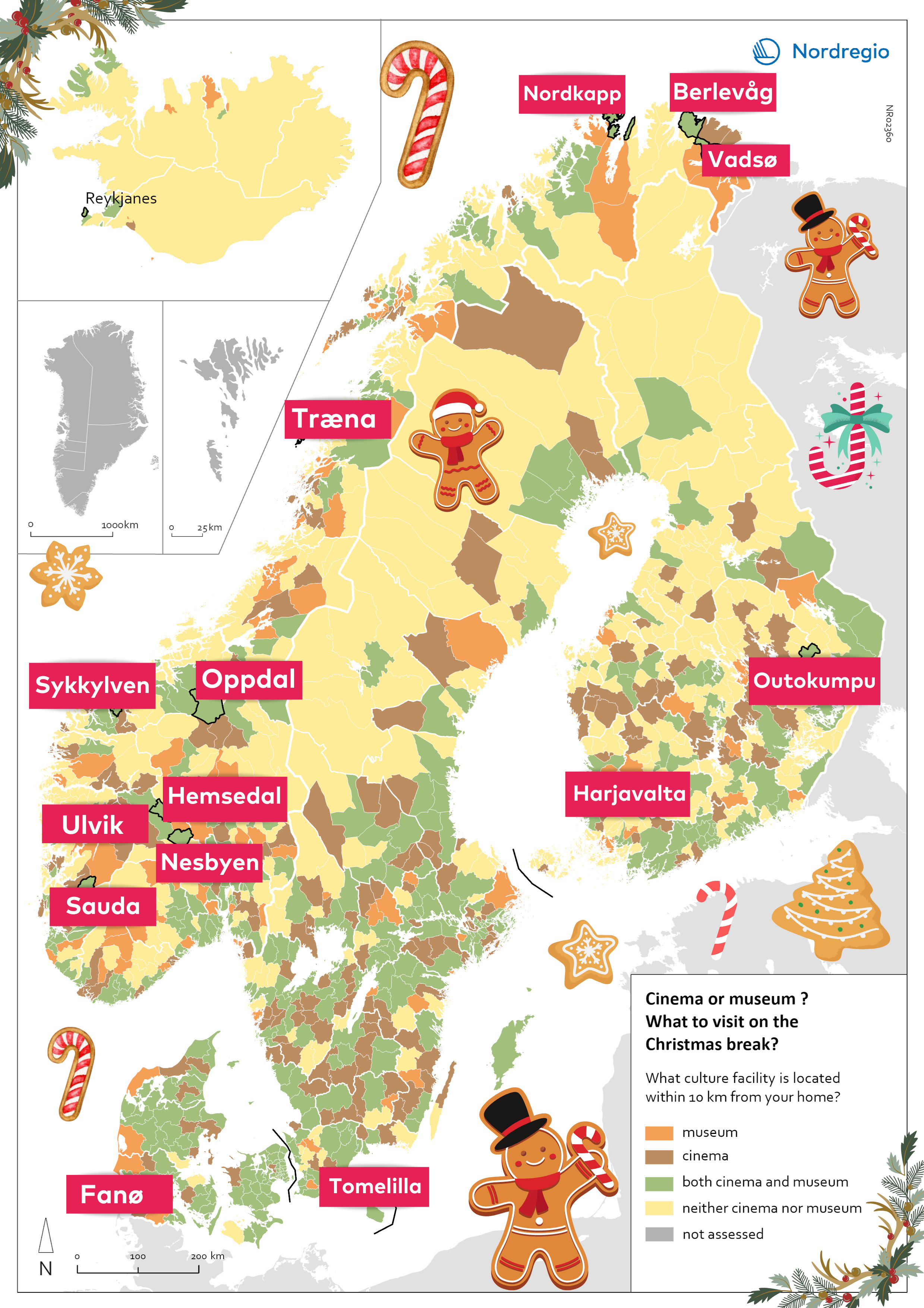 After several years of Covid restrictions with not much to do, we are eager to go out and about to experience some culture during the Christmas holiday. Nordregio has ranked the Nordic municipalities according to their accessibility to culture – in this case, a cinema or a museum. The map shows where the population, on average, has under 10 km to a cinema or a museum. This is considered to be "good" according to Nordic standards.
In the Nordics, access to culture is not limited to big cities. The map highlights top-performing rural municipalities where people on average have less than 5 km to a cinema or a museum.
So, what can we say about combining cultural experiences with rural cosiness?
Well, going for a trip above the Arctic circle might be a good idea! The Norwegian municipality Berlevåg with the best overall ranking, can on average offer you a museum or cinema experience in less than 2.14 km from your home. So how come, what does Berlevåg do to be such a culture-friendly place? When zooming in on the town with 906 habitants, it becomes pretty evident that its cinematic history plays an important part…
In 2001, the Norwegian film director Knut Erik Jensen made a documentary film about the men's choir in the town, Berlevåg Mannsangsforening. The movie was called Heftig og begeistret, which means Cool and Crazy, and it became a big hit in the country. Apparently, the cinematic love is still going strong! The cool and crazy municipality of Berlevåg knows how to offer cultural experiences that no other Nordic rural municipality!
If you feel northern Norway might be a bit far away from your holiday destination, why don't you check out the following options?
Tomelilla in Skåne, Sverige used to be the centre for AB Svenska Ord run by Swedish humour giants Hasse and Tage. The company's film sets during the 70s and 80s took place here and the cinema in Tomelilla, called Rio, hosted all the company's world premieres.
Harjavalta in Satakunta, Finland, can take pride in hosting a museum dedicated to Emil Cedercreutz – a sculptor artist best known for his horse sculptures! Also, an honourable mention goes to the slam/brutal death metal/goregrind band Torsofuck, founded in Harjavalta.
Not a single Icelandic rural municipality made it to the top-14 list, but we can reveal that the best Icelandic town is Suðurnesjabær, with around 6.1 km to the closest cultural venue.
Rural municipalities with geographic accessibility to a cinema or a museum under 5 km:
| | | |
| --- | --- | --- |
| Municipality | Region and country | Average distance |
| Berlevåg | Troms og Finnmark, NO | 2.14 |
| Træna | Nordland, NO | 2.405 |
| Sauda | Rogaland, NO | 2.43 |
| Ulvik | Vestland, NO | 2.875 |
| Harjavalta | Satakunta, FI | 3.885 |
| Tomelilla | Skåne, SE | 4.025 |
| Vadsø | Troms og Finnmark, NO | 4.035 |
| Fanø | Syddanmark, DK | 4.135 |
| Sykkylven | Møre og Romsdal, NO | 4.275 |
| Nesbyen | Viken, NO | 4.335 |
| Outokumpu | Pohjois-Karjala – Norra Karelen, FI | 4.35 |
| Oppdal | Trøndelag, NO | 4.725 |
| Nordkapp | Troms og Finnmark, NO | 4.91 |
| Hemsedal | Viken, NO | 4.99 |
The geographic accessibility to cultural facilities is calculated for the population in all Nordic countries and it builds on data from Myndigheten för Kulturanalys. If you are interested in a more in-depth analysis on this topic, don't miss the report from Kulturanalys Norden to be launched by the end of March 2023.
Related Staff
Authors