Nordregio Forum 2021 session 2 will focus on just and green regional development. The Nordics are perceived as global front-runners towards carbon neutrality, but what kind of impact do we see at local and regional levels? How can we ride the wave and lead towards just green transition and rural renaissance? Join the discussion and learn from the precedents.
Welcome to Nordregio Forum 2021 – session 2!
Watch the session on Youtube!
---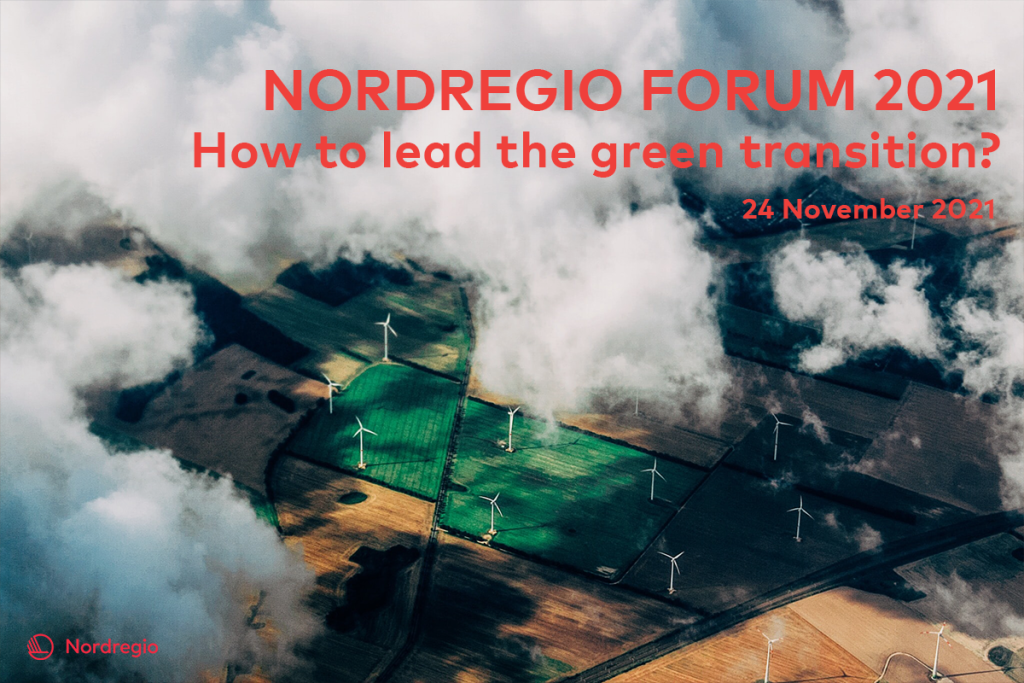 Programme
13:00 – 15:15 CET
13:00
Welcome and intro to the programme
Moderators Åsa Ström Hildestrand and Pipsa Salolammi, Nordregio
13:04
Welcome speech
Paula Lehtomäki, Secretary-General, the Nordic Council of Ministers
13:10
What is just green transition? Why is it so important? How to create local value in the process?
Interview with Nordregio's Senior Research Fellows Anna Karlsdóttir and Anna Lundgren
13:20
Keynote speech: Green leadership – How did mid-size town Lahti become The EU Green Capital 2021?
Pekka Timonen, Mayor of Lahti, Finland
13:40
Keynote speech: How to design effective climate policy with regional impact?
Johan Kuylenstierna, Chair, Swedish Climate Policy Council
14:00
Panel Discussion: Climate Action Post COP26 and regional implications
Anna-Leena Seppälä, Head of Unit, Ministry of the Environment, Finland will be discussing together with the keynotes of the day.
14:20
Hop on a "Tour-de-Nordics"
Nordic experts share their planning tools for just green transition at the local level. The initiative DK2020 is helping all Danish municipalities to create climate action plans, but how? And how are Norway and Iceland proceeding with climate budgets, local leadership and ensuring that no region is left behind? Q&A Session – Ask the regional experts!
Denmark: Anna Esbjørn, Head of program Cities of the Future at Concito (think tank)
Iceland: Stefan Gíslason, Founder and Managing Director of Environice (consultancy)
Norway: Kjetil Bjørklund, Climate expert, Norwegian Association of Local and Regional Authorities. Explore how to make a climate budget (in Norwegian).
15.10
Final remarks by Rolf Elmér, Director of Nordregio
Related Research Projects
Related News