Nordregio Forum is over for this time and we are very pleased that so many of you in our network joined us in Helsingør and contributed to the programme. Interesting key-notes, engaging panel discussions and parallel sessions, effective matchmaking meetings, and participants from all Nordic countries and beyond, all made sure that the Forum became what we had hoped for: inspiring, innovative and a place for creating new contacts. Below follows a summary of the two days in Helsingør!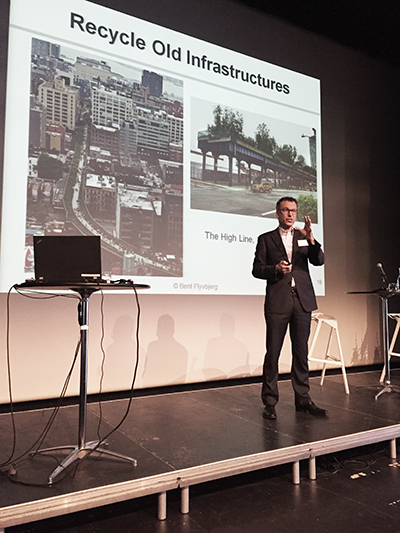 Can megaprojects help Nordic cities become more competitive in a global perspective?
The megaproject investment boom strives from monumentality – political, technological, economic and aesthetic drivers that lead us towards these grand investments. However, the reality is that only one out of ten megaprojects seem to manage all the complexity, which leads to Bent Flyvbjerg's iron law of megaprojects: over budget, over time, under benefits, over and over again. Megaprojects often go bankrupt and in the Nordics we have a few case examples like the Stockholm Arlanda Express airport train and the Copenhagen subway. One reason for this is that that megaproject managers are often inexperienced in mega projects and end up holding the proverbial 'tiger by its tail'.
Bent Flyvbjerg believes that the Nordic cities should not try to compete with having the tallest, longest, largest, most expensive projects but rather keep on doing right things as so far by placing people first in the Nordic city planning. Nordic cities are known to be human sized and according to Flyvbjerg that is their strength. Nordic cities should therefore focus on recycling old infrastructure, reusing and transforming existing buildings and developing new technologies, like driverless cars, to create added value to the cities. Cities need to concentrate on keeping the cities liveable for people.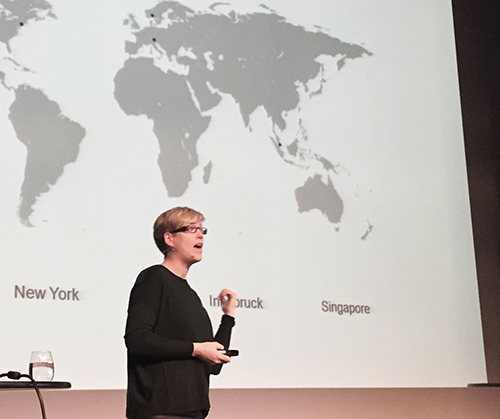 Tonje Frydenlund, the Managing Director of award-winning design and architecture firm Snøhetta, finds open, inviting spaces more and more important for growing cities. Bringing people together from different backgrounds and giving the city to the citizens is one key factor of the modern successful architecture.
Many Nordic city regions and business areas are interested in cooperation. By working alone we are too small for the global investment markets. Representatives from Hamburg, Vienna and Greater Copenhagen are looking forward to creating something even more beneficial together. And to get things going, 50 matchmaking meetings were held during the lunch break of the first day.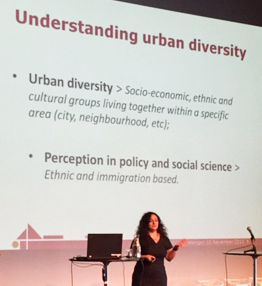 How do we create socially sustainable cities and benefit from the diversity of our population? Professor Tuna Tasan Kok gave an engaging presentation about the importance of creating active social spaces to local people so that they can have meaningful encounters. Just playing in the same park is not enough: people need to activate themselves and actually do something together and share moments.
How did Vancouver become what it is today? Professor and former Director of Planning of the city of Vancouver, Larry Beasley, explained the processes they went through to build the city in a new way. Participatory planning is an important tool for the city planners. Bring people to the heart of the planning process and do not let markets take care of the housing, but remember to keep public and private side by side. Happy inhabitants, interested investors and a city always at the top of the world's best city rankings are the end results of a long, careful and participatory planning project.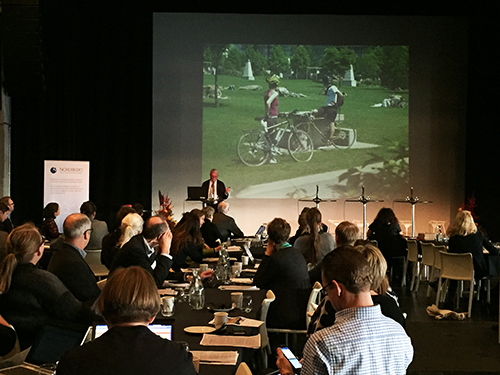 Several panel discussions between Nordic city mayors and representatives, between different level city planners and developers as well our keynotes gave answers to some of the most difficult questions that growing cities face today. For example; how can city planning be used as a tool to prevent social exclusion? Professors Larry Beasley and Tuna Tasan Kok gave good examples from Canada and Vincent Gollain brought good results from Paris CDG airport area.