How can rural areas become attractive for youth? The Nordic Youth Panel has the answer. The panel's recommendations were presented at a recent webinar on regional attractiveness organized by OECD, and for the Nordic Ministers of Regional Affairs in Reykjavik during a meeting last week.
Research Fellow Mari Wøien Meijer had the possibility to present the work of the Nordic Youth Panel during the webinar "Enhancing regional attractiveness for resilient development: a dialogue amongst practitioners". The webinar was arranged by the OECD Centre for Entrepreneurship, SMEs, Regions and Cities and gathered various practitioners and experts to discuss enhancing regional attractiveness for resilient development.
The event aligned with the OECD's ongoing efforts to understand and promote regional attractiveness due to evolving global challenges like climate change, technological shifts, and the quest for more strategic globalisation objectives. Key drivers of regional attractiveness are attracting talent, investors and visitors to regions grappling with challenges like outmigration.
In the Nordic region, many rural municipalities face demographic challenges with ageing populations and the migration of young people to urban areas, resulting in less diverse labour markets and services. Adapting to these trends while attracting young residents is challenging due to the superior educational and employment opportunities in cities. This situation leads to reduced funding for services, especially for the elderly and youth, further diminishing the appeal of rural areas and creating a vicious cycle of decline.
What can we do to make rural areas more attractive for young people? Key areas of focus as identified by the Nordic Rural Youth Panel include improved transportation options, affordable and diverse housing, accessible education linked to local labour markets, mental and physical health support, funding for public meeting spaces, and communication using accessible language and platforms.
"The Nordic region's aim is to become the world's most sustainable and integrated region, and engaging young people and identifying solutions to these challenges is of utmost importance to reach the goal", says Wøien Meijer.
In the following session, Hannah Degerman from Piteå municipality shed light on the efforts in making municipalities attractive for young people, emphasising the EU Green Deal's potential and the challenges and successes of a cross-sectoral relocation service.
She stressed that cities and municipalities must actively integrate and value newcomers' skills.
"Our municipalities really need to step up their game. The employers must accept hiring English-speaking people. We don't have a lack of workforce in the world, we can attract as many as we want to but if we cannot accept the skills they bring to the table, we've got ourselves a big problem."
The Nordic Youth Panel met with the Nordic Ministers of Regional Affairs
During a recent meeting for the Nordic regional ministers in Reykjavik, three representatives from the Nordic Youth Panel were invited to present their recommendations.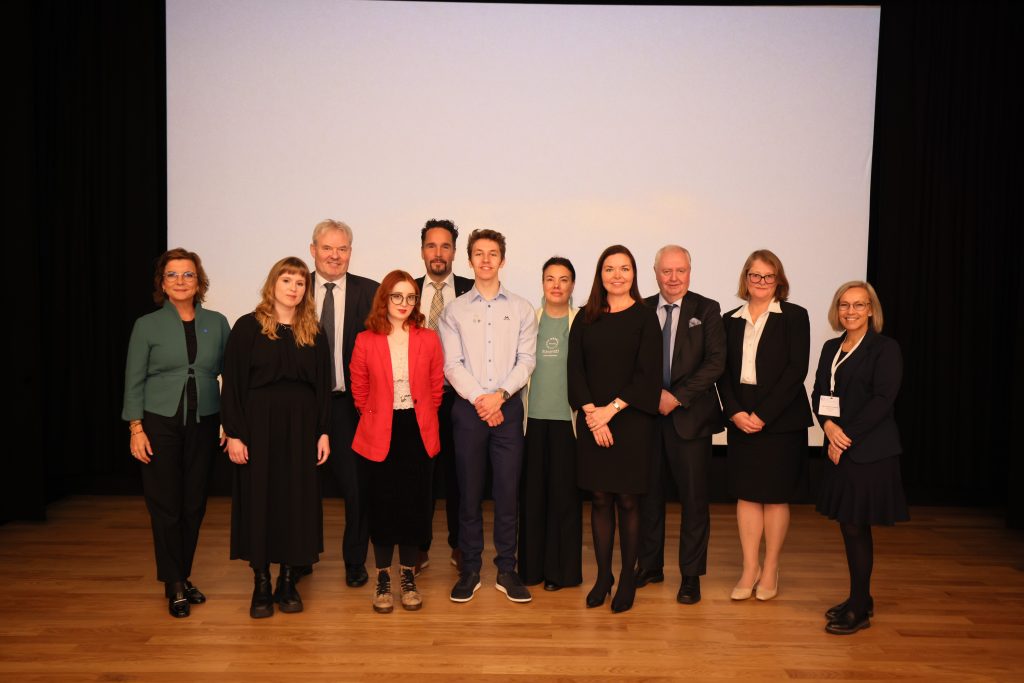 The panelists, Margrét Lára Baldursdóttir, Bára Örk Melsted, and Mads Harstad, underscored the importance of meeting the needs of young individuals in rural areas. They emphasized that youth may choose to relocate without access to affordable housing, local meeting places, education, healthcare, and the option to work from public local offices.
The ministers expressed a strong desire to bring the message of the panel home and work towards including young people in decision-making and community planning. They also noted that youth inclusion should be emphasized in the upcoming cooperation programme. The 40 recommendations by the Nordic Youth Panel will be launched on 7 November on Nordregio's website – stay tuned!