The interest towards the supply of energy resources and, above all, a transition to a more sustainable energy production, is bigger than ever. Many private citizens, municipalities, cities, companies, and housing associations are asking themselves how they could secure their own energy production through the use of local forces. The project Local ownership in transitions towards sustainable energy systems explores how local engagement can facilitate the transition towards green energy production.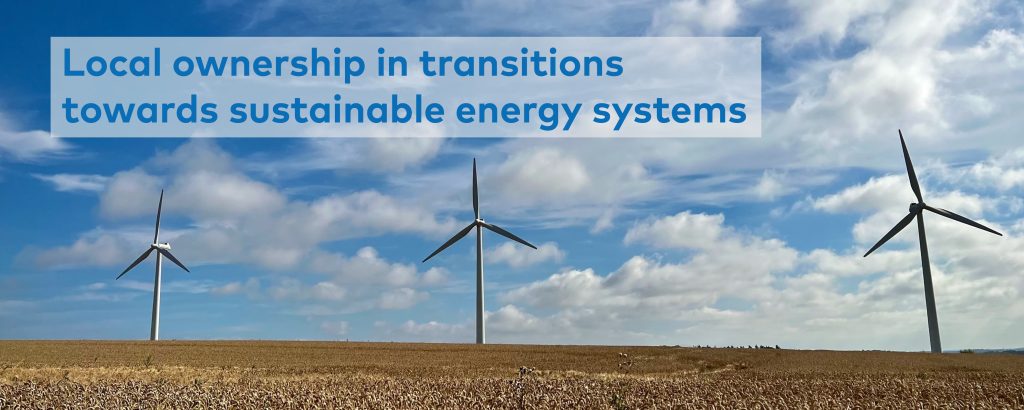 – The goal of the project is to form a solid understanding of the complexity and potential of local ownership in the energy transition, says Senior Research Fellow Elin Slätmo at Nordregio.
Slätmo says that the project aims to cover different energy-related projects from various locations around Sweden and explore how local ownership can be organised to facilitate the transition. Uppsala University and Nordregio are collaborating on the project, which is funded by the Swedish Energy Agency (Energimyndigheten).
The project is highly topical and therefore it is important to study the opportunities and risks of local energy ownership. The research project has a reference group to ensure the relevance and timeliness of the project in Swedish society. The reference group consists of members who are knowledgeable and engaged in the sustainable energy transition. One member of the reference group is Anna Bäckstäde, who works as an Energy and Climate Advisor at Energicentrum Gotland. Bäckstäde supports both private citizens and organisations in cutting emissions and finding solutions towards a higher level of energy efficiency.
Have you seen a shift in people's behavior, are they more interested in green energy sources than before?
– Absolutely! I just had a solar panel assembler at my home, and I learned to know that the number of installations has increased by over 100 percent. I also get requests about small scale wind power, and people are interested in new energy sources due to the high energy prices. You could say that there is a big demand for green energy.
On Gotland many people want to consult Bäckstäde regarding heating systems. House owners are considering replacing their old wood-burning stoves, and in many cases they can be replaced with heat pumps. Geothermal heating is also a topic of interest.
Examples of local initiatives promoting a green transition can be found around Sweden – and one example from Gotland that Anna Bäckstäde highlights is the collaborative project called Austerland Energi. The project aim is a local, jointly owned energy system focusing on phasing out fossil fuels and reducing CO2 emissions from farming, freight transport and travelling.
Even though interest in a green transition has grown during the last years and many engage in finding new solutions, there are some obstacles in the way according to Anna Bäckstäde.
– You have to wait for a long time to get solar panels installed on Gotland, and it is also hard to get a hold of some of the required materials. The wait time can be up to six months or even a year.
The project Local ownership in transitions towards sustainable energy systems is only in its initial phase and in total five case studies are to be conducted during the coming years.
---
Meet the researchers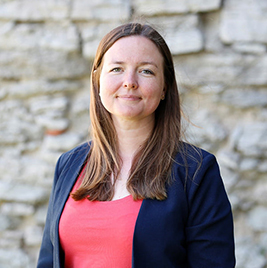 Johanna Liljenfeldt
The energy issue affects our everyday life – maybe more directly today than in a long time. Despite this, many of us have, until recently, had limited knowledge and possibilities to engage with and influence this matter. What I find exciting in this project is finding ways to open up the energy transition for private citizens and make it possible for more people to have an impact on their own energy consumption, as well as the energy transition in our society at large.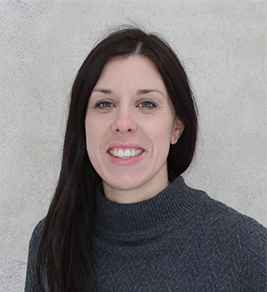 Elin Slätmo
Solutions for ownership and impact regarding the energy we are using are interesting to examine in order to provide a socially sustainable energy provision that many can take part in and influence. Organisational forms and solutions from the ongoing initiatives we are researching can be used as inspiration for promoting an energy transition on a larger scale. In the project we are mixing research by way of literature studies and case studies, as well as communication in learning networks. I think that it is one of the strengths of this project.
---
About the project
The main objective of the research project is to increase knowledge about the role of local ownership in transitions towards sustainable energy systems. Three research questions will allow us to reach the aim:
What are the possibilities, risks, and values of different types of local ownership in a sustainable energy transition?
How can local ownership be organised to support a sustainable energy transition?
What policy recommendations can be made on local, regional, and national levels in Sweden to facilitate successful local ownership for a sustainable energy transition?
Local ownership and models do not by default result in positive outcomes, which is why the idea of local ownership as a contributor to energy system change still needs to be further explored.