The project aim is to uncover existing bottlenecks for sectors/businesses engaged in green transitions. To do this, we investigate the role of change agency processes, and the way in which policies and framework conditions impact on green transition changes in sectors/businesses across the Nordic Region. These policies and framework conditions may refer to e.g., national, and regional innovation policies such as smart specialisation strategies and regulations, but also opportunity spaces for innovation, and individual actions.
This project should reveal some of the bottlenecks to innovation, that connect, enable, or impede change and the green transition, from a systemic perspective. The project will depart from the point of businesses as change agents and their change processes as part of the green transition, in specific innovative and green sectors.
Project objectives:
To understand the role of businesses as change agents in green transitions.
To understand how systems and place-based innovation policies influence transformative processes within sectors.
To understand what bottlenecks to innovative change needs to be resolved in order to facilitate green transitions in different sectors.
Nordregio's researchers will conduct three qualitative case studies from across the Nordic Region.
The project will result in a report and policy brief in 2024. A discussion paper will be published in June 2022, followed by a webinar on innovation and the green transition in the autumn of 2022.
---
Discussion paper on "The Systems Perspectives on Green Innovation"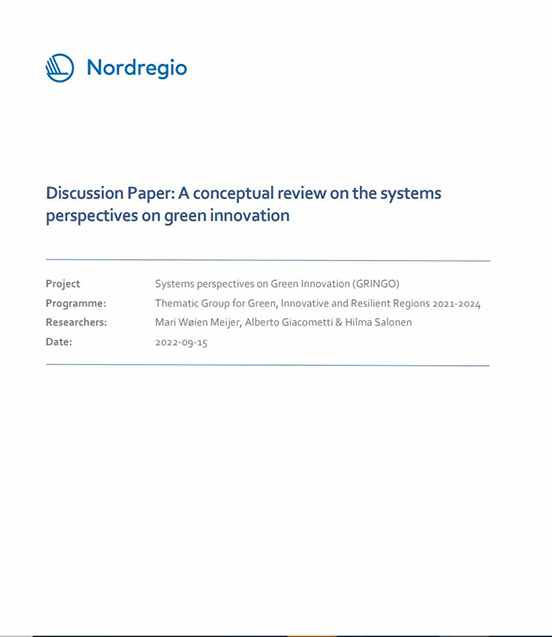 The newly published TGC Discussion paper A conceptual review on the systems perspectives on green innovation deals with the theoretical foundations and empirical approaches for studying green innovation. This discussion paper is meant as an open invitation to discuss methodological approaches and the implications of the green transition for innovation policy.
Related Researchers
Related Publications