Earlier this week we were honored to have Jessika Roswall, the Swedish Minister for Nordic Cooperation, visit Nordregio. The informal meeting was an opportunity for Nordregio to showcase its contributions to Nordic cooperation and present the findings and recommendations from our research on cross-border mobility and transport infrastructure planning.
"Research and facts are key to convincing people of the importance of Nordic collaboration," stated Minister Roswall. A sentiment shared by our team, who have long championed using research as a tool to drive positive change in the Nordic region.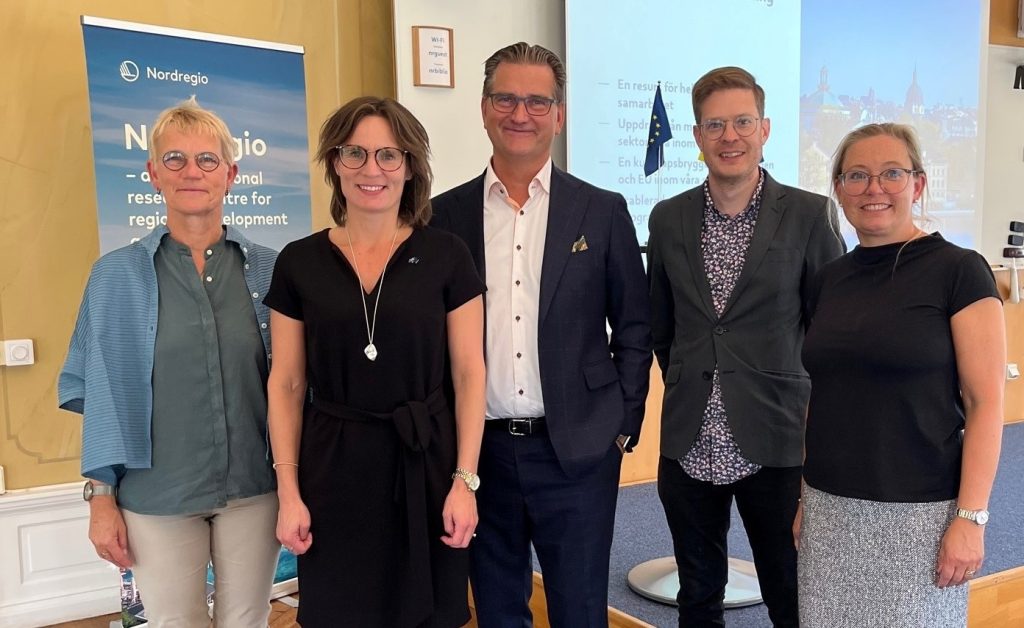 During the meeting, Director Rolf Elmér and Research Director Karen Refsgaard explored Nordregio's role in Nordic collaboration and the concept of Nordic added value. Our Senior Cartographer Gustaf Norlén delved into the realm of statistics and maps, asking how integrated is the Nordic labor market?
He noted that it has been possible to work in another Nordic country since the establishment of the joint Nordic labour market in the 1950s. However, our research shows only 1.7% of the working-age population work in a different Nordic country from the one in which they were born, and only 0.5 % commute to a job in another Nordic country. This is below the EU average of 1%.
Senior Research Fellow Anna Lundgren went on to explain that maintaining Nordic freedom of movement, including in practice, and removing obstacles are important for securing a better integrated and sustainable Nordic region. She presented three policy recommendations from our project Re-start competence mobility in the Nordic Region.
The discussion then turned to facilitating cross-border transport infrastructure planning in the Nordic Region. Anna Lundgren elaborated on our recent report that provides empirical data and a forward-looking analysis on the issue, noting that the interest of the national governments in prioritising Nordic political cooperation in the field of transport infrastructure is key.
The report underscores the importance of clear assignments and mandates from political leaders to national transport authorities to work on and enhance cooperation. Although regions, municipalities, cross-border organisations and other players are important actors, they cannot replace the national authorities. It recommends the establishment of a joint Nordic knowledge base on the Nordic transport system's flows, its functioning and how investments in transport infrastructure in one country affect flows in the other Nordic countries.
The meeting concluded on a positive note, with both Minister Roswall and Nordregio expressing their optimism for the future of Nordic collaboration, driven by research and a shared vision of a sustainable and integrated Nordic region.