Rapid urbanisation is one of today's biggest global challenges. Nordic Sustainable Cities is a flagship project under the Nordic Prime Ministers' initiative Nordic Solutions to Global Challenges that seeks to shed light on this challenge from a Nordic perspective.
The White Paper on Nordic Sustainable Cities develops a narrative to describe the "Nordic Sustainable City". It forms a basis for the knowledge sharing effort that will be carried out by Nordic Innovation, Nordregio's sister institution under the Nordic Council of Ministers in 2018. This work aims to export Nordic stories as a means of branding the Nordic Region and contributing to global efforts towards urban sustainability.
See also a case collection of 54 cases that exemplify a wide range of Nordic sustainable cities
---
What is the Nordic take on solutions for sustainable cities? by Luciane Aguir Borges
Read more about the Prime Ministers' Initiative on norden.org
Read more about the Nordic Sustainable Cities project
---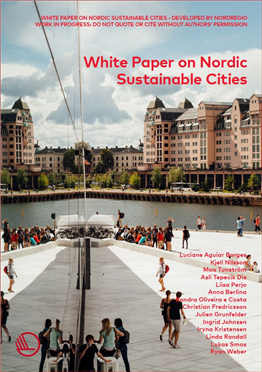 White Paper – download the publication
---
Sharing a Sustainable Urban Future: A Nordic Cities Perspective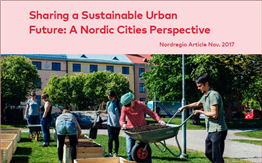 Every minute, 120 people arrive in cities around the world. Whether it is through movement or birth, this population increase, coupled with a lion's share of global greenhouse gas emissions and economic production, puts city regions squarely at the centre of climate change action.