Nordregio launched the accessibility study that identifies over 200 routes in the Nordics in which electric aviation would shorten the travel time by at least 1,5 times, compared to the same route by car or public transport!
A Norwegian fisherman Bjørn has just returned to Tromsø after his winter fishing in Andenes. It was supposed to take around 7 hours by car to bring the Atlantic cod home, but since the winter conditions were not the best, it took him much longer than expected. If there were an electric plane route connecting Andenes and Tromsø, the travel time and distance would shorten significantly (from nearly 500km to around 100km), and the environmental impact of such a trip would be reduced.
The Nordic region shares many similar accessibility challenges for remote and rural regions. The geographical characteristics of some of these areas, such as large bodies of water, vast forest areas, long coastal lines, mountain ranges and fjords mean that they would experience a significant reduction in travel time using airplanes compared to other modes of transport, such as car, bus or train.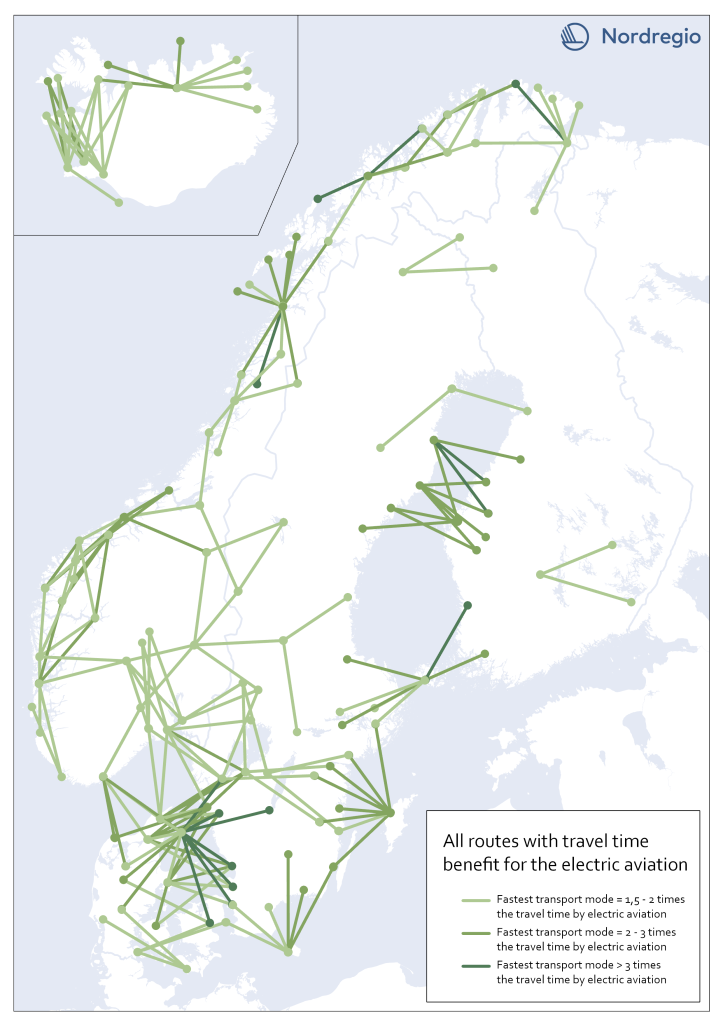 Which possible routes for electric aviation have the largest accessibility gains in the Nordic Region?
The accessibility study for electric aviation compares travel times of various routes by the electric aircraft and the fastest transport mode currently in use. The study results show where implementing electric aviation could offer the largest accessibility gains.
About the project
This accessibility study is a part of the project "Electric Aviation and the Effect on Nordic Regions", which aims to investigate how regions and local areas in the Nordic area will be affected by the implementation of electric aviation. The study analyses effects on the local communities, labour market, environment and climate, and the need for developing infrastructure and policies.
Related Staff
Related Research Projects
Authors